FOR IMMEDIATE RELEASE— Gorongosa National Park,
Mozambique, Thursday, July 16, 2015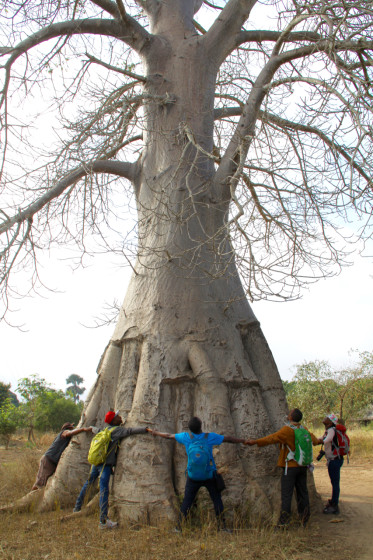 Since July 11, 2015, Gorongosa National Park has hosted 33 African and North American students, adventurers, scientists and conservation leaders for the first ever Lost Mountain Next Gen Symposium.
"There has already been a lot of excitement and information," says Salvador Nanvonamuquitxo, a graduate student at Universidad Lurio, Mocuba, Mozambique. "From meeting new people to learning so much about different cultures— we all have a love of the environment as our common denominator."
The twelve-day symposium seeks to launch a wave of "disruptive" conservation – a model for building community-driven conservation in some of the world's most remote and biologically diverse places. The Symposium students are developing the next phase of community engagement, development, and conservation for Mount Namuli, a 7,936-foot granite monolith and the largest of a group of isolated peaks that tower over the ancient valleys of northern Mozambique.
Mount Namuli and Mount Gorongosa are both part of the greater Eastern Afromontagne region and they are now further linked through this Symposium. Students are drawing deep knowledge and experience from Gorongosa National Park's team of scientists, rangers, educators and conservationists while learning new skill sets to contribute to the future plan for integrated conservation on Mount Namuli.
Mount Namuli is one of the world's least explored and most threatened habitats. Here, plants and animals have evolved as if on dispersed oceanic islands, so that individual mountains have become refuges to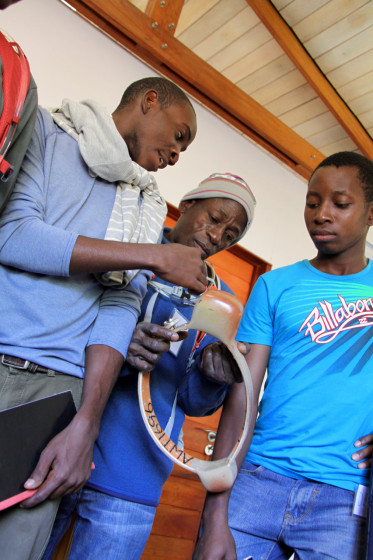 their own unique species, many of which are yet to be discovered or described by science.
"To create a model where people and ecosystems can thrive together on Mount Namuli, we've learned we need two things," Grant Bemis, graduate from Eckard College living in Minneapolis, USA says. "Strong leaders and a strong understanding of best practices in conservation of biodiversity. We're getting both of these things here at the Symposium."
Since the beginning of The 2015 Lost Mountain Next Gen Symposium, participants have been immersed in a wide variety of activities. Students have participated in a transformative leadership workshop led by Seid Aman, the Ethiopian director of imagine1day, have begun a 5-day intensive training in the Open Standards for the Practice of Conservation framework, and are integrating environmental stewardship practices through the first-ever delivery of the Leave No Trace platform in Mozambique.
These classroom activities have been punctuated with visits to Gorongosa National Park for a game drive, a lab tour of the E.O. Wilson Center for Biodiversity, and a visit to the neighboring community of Vinho to better understand how Gorongosa partners with communities in the buffer zone around the Park.
Students will draw from all of these disciplines and experiences to design a plan for Mount Namuli, which will then be vetted with Namuli community members and implemented in August.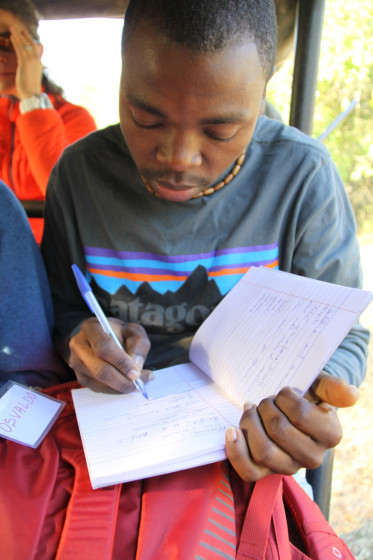 "The Symposium has greatly enhanced my theoretical knowledge from university with practical skills and understanding," explains Maria Muchanga Davissone, a graduate student at Eduardo Mondlane University in Maputo, Mozambique. "At schools here in Mozambique, we study a lot about the environment, but we don't see the environment as very few students have the opportunity and resources to go to the field. Field visits are so important because when you're here, you see the wilderness, and more importantly, you feel the world around you."
"For example," Maria continues, "Yesterday in Gorongosa National Park, we saw an abundance of yellow fever trees. Usually these kinds of trees aren't as plentiful, but since the elephant population is so low, they aren't controlling them like they normally would. I've read about the impact of elephant poaching in books – but to see it in real life really brought it home."
It is this combination of theoretical and practical skills across a number of disciplines as well as the long-term impact of students' work on Mount Namuli that makes The 2015 Lost Mountain Next Gen Symposium unique.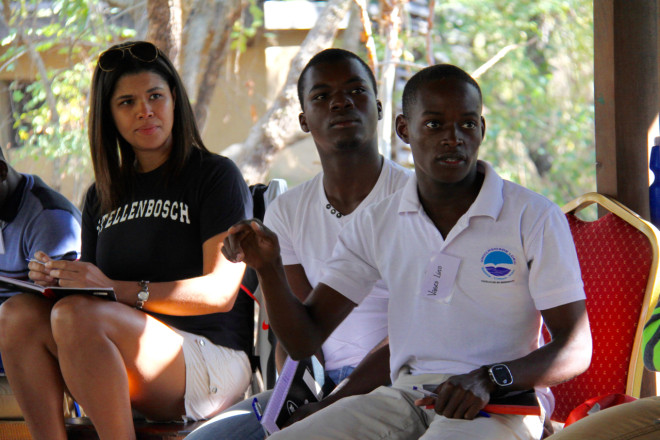 "As we move through the curriculum of the Symposium, the goal is to have students see that a holistic approach to conservation will create long term impact," explains Majka Burhardt, Director of The Lost Mountain. "This approach is one that includes leadership, a clear understanding of planning, implementing and evaluating ecological projects, as well as best practices for minimizing personal and societal environmental impact. By investing in the whole person, we are building up balanced leaders who will make a significant impact in our world."
www.legadoinitiative.org
Interviews, Imagery, and More Information:
Leigh Boyle, Community Leader, Lost Mountain
+1-604-910-4903 | team@additiveadventure.com

ABOUT THE LOST MOUNTAIN
The Lost Mountain Initiative is an international venture to foster a future where people and ecosystems thrive together on Mount Namuli, Mozambique. The Initiative began with a 2014 field expedition combining rock-climbing, cliffside scientific research, integrated conservation planning, and media. Mount Namuli, a 7,936-foot granite monolith, is the largest of a group of isolated peaks that tower over the ancient valleys of northern Mozambique. It is one of the world's least explored and most threatened habitats.  Here, plants and animals have evolved as if on dispersed oceanic islands,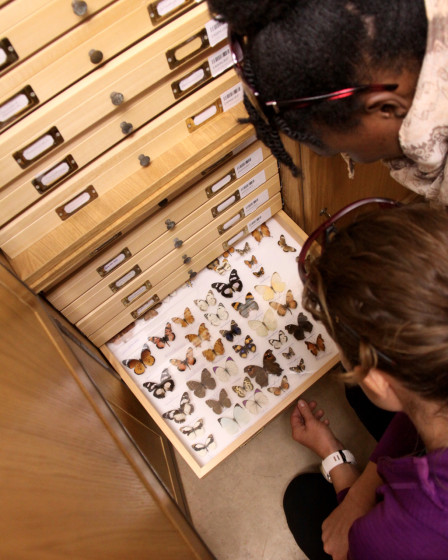 so that individual mountains have become refuge to their own unique species of life, many of which have yet to be discovered or described by science. Biologists and conservationists from around the world have identified Mount Namuli as a global hotspot: a place of critical biodiversity and an opportunity to model a new vision for wildlife preservation that integrates the wishes and needs of local people.
The Lost Mountain Consortium is directed by US-based Additive Adventure and Mozambique-based LUPA. The Lost Mountain is supported in part from a grant from the Critical Ecosystem Partnership Fund—a joint initiative of l'Agence Française de Développement, Conservation International, the European Union, the Global Environment Facility, the Government of Japan, the MacArthur Foundation and the World Bank. The Lost Mountain Next Gen Initiative's presenting partner is Positive Tracks, a national, youth-centric nonprofit that helps Generation Next get active and give back using the power of sport and adventure. With key support from Ethiopian Airlines, Osprey Packs and Goal Zero and supporting sponsors Clif Bar, Patagonia, Kickstarter, Petzl, Scarpa, Julbo and 1% for the Planet.
—
legadoinitiative.org | www.legadoinitiative.org/next-gen-2015-symposium/ | facebook.com/lostmountainorg | www.facebook.com/majkaburhardtofficial
#LostMountain | @majkaburhardt