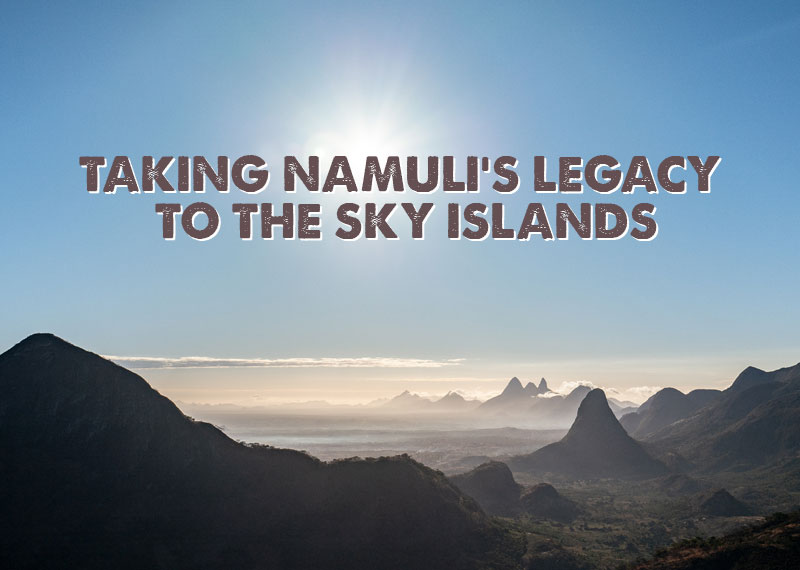 In 2011, when we first started working on Mount Namuli, our focus was singular: one mountain, one landscape, one project. But, you know as well as I do that nothing about the mountains is ever singular.
Today, in 2018, Legado is proud to share that we're expanding, and we're doing so as part of our work in Sky Islands.
What's a Sky Island, you might be asking?
A Sky Island is a mountain that has exceptionally large biodiversity in an exceptionally small area — like Mount Namuli. In Mozambique, these mountains account for only 0.3% of the landmass and have over 20% of all of the country's bird species, and 60% of its butterflies. Additionally, each of these mountains supply water to millions of people downstream.
Because of your ongoing support and encouragement, we are gearing up to take our learnings from Mount Namuli and apply them to other Sky Islands in the area. With your support, we'll continue our work to create community led and owned grassroots solutions for Sky Islands that protect their biodiversity and make a better and more sustainable life and income for the people who call them home.
I'll be sharing more with you in the coming months so stay tuned! If you have any questions right out of the gate, just hit reply — I'd love to hear from you and share more about this exciting next step with you.
---
---
Investing In Scalable Solutions
In June of 2018, Legado's Executive Director, Majka Burhardt, was named as one of the prestigious Mulago Foundation Henry Arnhold Fellows.
These fellows are a group of "standout leaders focused on scalable solutions in conservation and climate" whose work will have a direct impact on tackling the basic needs of the world's poorest people.
The Mulago Foundation is providing Legado critical funds and tools to scale our work to the Sky Islands. We're grateful for their support of our work protecting mountain ecosystems and the downstream impact on millions of people each of these Sky Island ecosystems has.
---
Read More Here
---
Hankering for a visit to Namuli, hosted by the Queen?
With the generous support of a Google Jump Grant and filmmaker Ross Henry, we're taking you to Mount Namuli through our new 3-minute Virtual Reality film, Mountains = Water = Life.
So, get your VR goggles ready and check the film out in English below or, you can see the film in Portuguese here.
If you don't have VR goggles, no worries at all – you can still check out the film on YouTube and explore the 360 view of Mount Namuli by clicking and dragging around the screen.
---
---
Legado thrives because of the generous support of people like you. Your gift today goes directly towards our work in Mozambique and is fully tax-deductible.
---
Donate Here