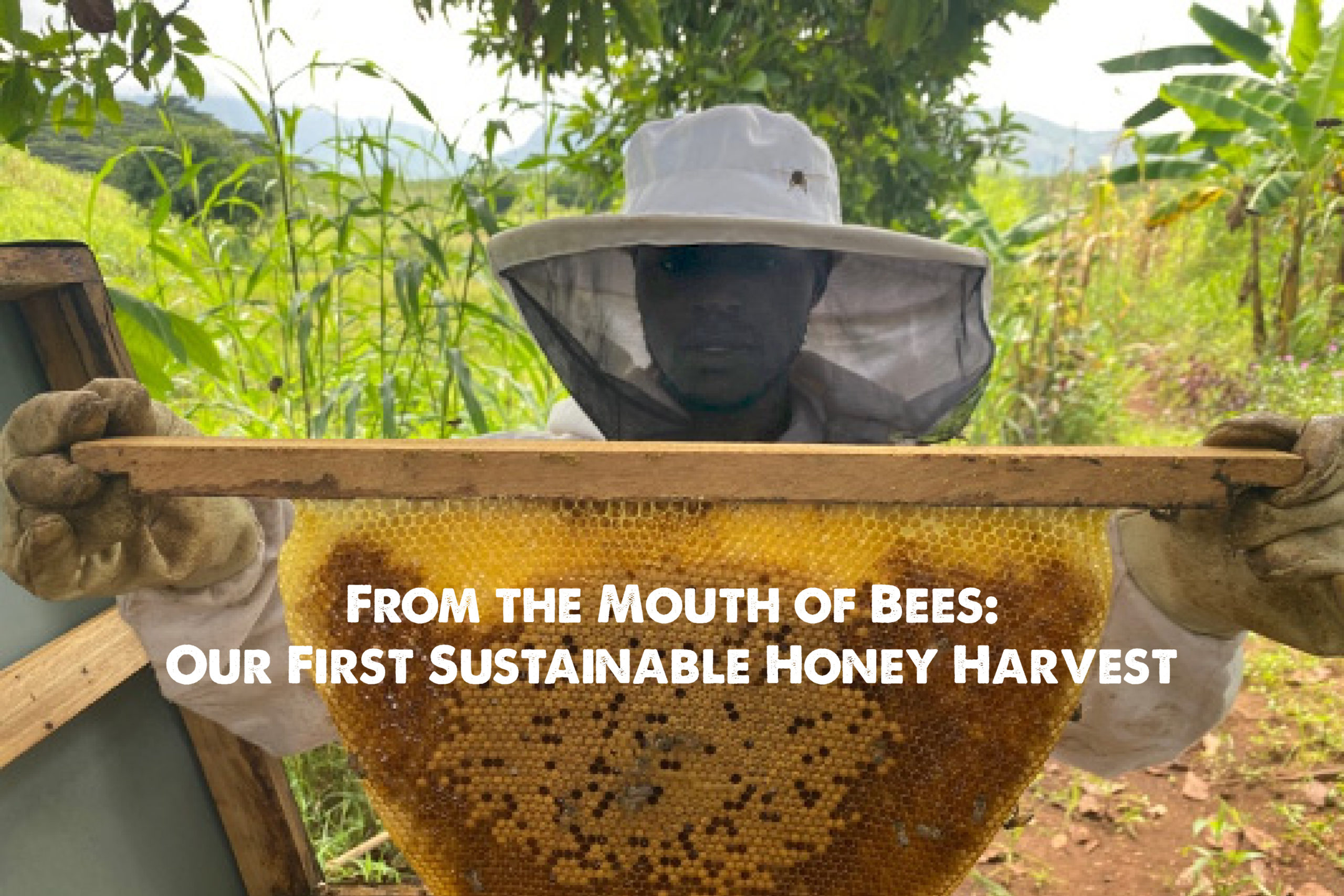 Written by a Mount Namuli Honeybee
Can you smell that? It's the sweet smell of honey being collected from my hive. While the world has been feeling a bit uncertain, these last few months have been buzziness as usual for us Mount Namuli honeybees. We have been hard at work, feeding the queen and keeping the colony healthy. I'm happy to report that our relationships are budding with the beekeepers of Mount Namuli as we all exist on the slopes of the mountain we call home.
My apian ancestors have lived in the mountains for generations, and so have our human neighbors. But today we're all getting along a little better than we did in the past, and as a result, me and my bee-team are making more honey.
The ancestors of Namuli's human inhabitants have deep knowledge about our seasonal rhythms, the structures of our families, and how to woo us into new homes, but until recently, our interactions together existed under a smokescreen— literally. Because of this, our sweet honey has been scarce and the fires used to collect it would ultimately destroy our homes, separate our families, and push us outwards to seek new places where we could live safely. Which is why today we're all trying something a bit different. The result? The honey is flowing sweetly and our relationship with the beekeepers is so good that we're coming back down the mountain and into the forests we once knew as home.
The beekeepers have begun to care for our hives in new ways, building islands of vegetation around our new homes full of young seedlings and wild flowers. We share the honey with the beekeepers and they leave plenty for us to eat through the months where nectar and pollen are scarce. In this new way forward, the beekeepers of Namuli are bringing together their traditional knowledge with sustainable practices to forge a new partnership with us — the bees of Mount Namuli.
Over the past year we have all learned that sustainable honey is not just a product, it is a process.  For the beekeepers, this means caring for us bees, our environment and harvesting our honey in a way that we can continue to contribute to the life cycles on the mountain while our honey supports the livelihoods of Namuli's communities.
From this new partnership, we have seen the possibility of working together and the triumph of the first harvests. From the communities of Mucunha to Murrece, we are working together with beekeepers like Senhor Inácio Joseph and Dona Ramussa Chicopera to give them the sweetest organic honey they could dream of, while they dedicate themselves to making sure we are protected from the threats of fire and deforestation. It is in this harmonious space of mutual benefit where we all thrive in possibility.
Our new relationship is paving a (sticky) path forward for us all. That sweet smell of honey is here to stay.
---
Read the bee's inaugural blog post reflecting on a day in its life on Mount Namuli here.
Our apiculture programming is part of a concert of work we do to create Thriving Futures with Namuli communities. Read more about the how apiculure, agriculture, land tenure, and legacy-based leadership development all combine with the Legado: Namuli program in Mozambique here.
Photos below:
Beekeeper Dona Ramussa Chicopera carrying her new Kenyan Top Bar hive to her apiary
Beekeepers of Namuli stand proud with Legado: Namuli Field team member and a newly installed Kenyan Top Bar Hive (Left to Right: Evaristo Joaquim, Zito Alberto, Legado: Namuli's Gálio Felizardo Zecas, Inácio Joseph, and Celestino Hilário)
Namuli's Traditional Tree Cavity Hive to capture wild swarms
Namuli 100% raw and organic honey from the bees and beekeepers of Mount Namuli
Legado Namuli field team member Filimonio with the product of Namuli's first honey harvest
Legado Namuli field team members Gálio and Ricardina at the apiary school with Namuli beekeeper Senhor Ernesto Abílio