We are thrilled to welcome Diana "Tita" Alvira, PhD, to the Legado team as our Director of Thriving Futures™.
Tita joins us after over 12 years at Chicago's Field Museum where she has been a driving force in the museum's community-centered conservation work in the Andes-Amazon.
Dr. Corine Vriesendorp, the Director of the Andes-Amazon Program at the Field Museum, shared the news of Tita's departure with her colleagues by email recently and summarized some of Tita's significant contributions around the world saying…
"Through her work at the Field Museum, Tita has had a profound impact on quality of life planning [Field Museum's methodology for community-led action], integrated territorial management, social inventories, land tenure of local campesino and indigenous communities, and conservation science in the Amazon basin, especially in Peru and Colombia. She was selected as one of the 200 scientists in the Science Panel for the Amazon, and she has co-authored important articles on biocultural approaches to wellbeing and sustainability indicators across scales, using community empowerment for sustainable wellbeing, and the large-scale expansion of protected areas in an Amazon hotspot. Tita is a recognized leader in her field, and was recently honored as a "Distinguished Colombian" by the Colombian Consulate of Chicago."
"It was a privilege to work in "minga" and grow at the Field Museum," Tita shares about her experience at the Field Museum, citing "minga" — the Spanish term for a collaborative style of collective work that benefits the greater whole — as a central work style of her team there. "I got to know and learn from so many people and to travel to amazing places like the Andes-Amazon region. There, I got to share great quality time with indigenous peoples and "campesinos" (Spanish for rural farmers) observing, listening, and understanding their day-to-day lives and creating the spaces for reflection and action as well as opportunities for putting their voices and priorities at the center for conservation and wellbeing policies."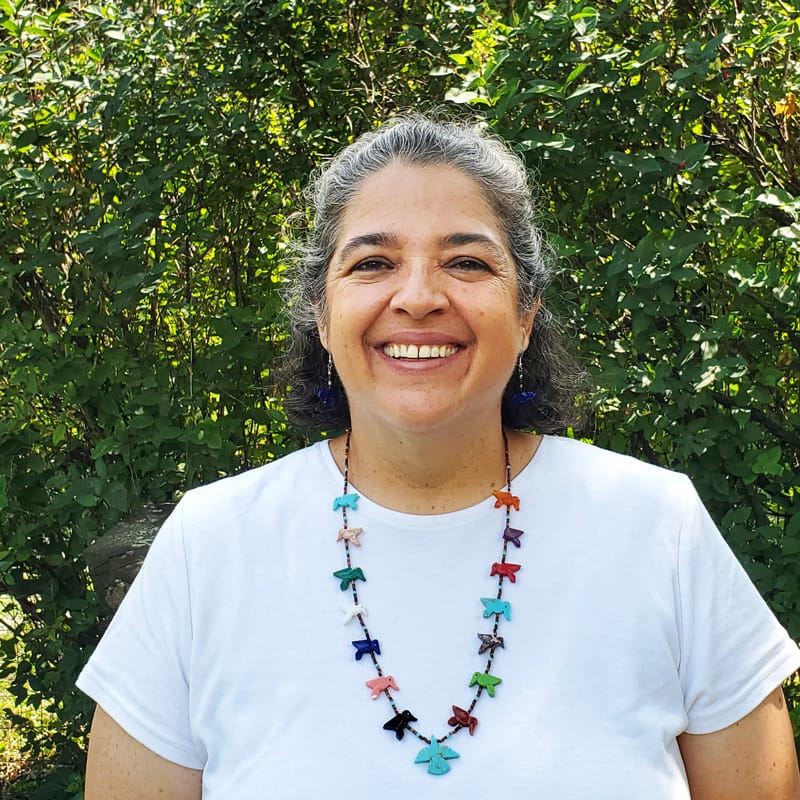 As the Director of Thriving Futures, Tita will lead Legado's global team in their work supporting indigenous and local communities in climate vulnerable and high biodiversity areas as they advance their priorities for a Thriving Future. Legado currently works in Mozambique and Kenya, and additional sites will be added in 2021-2022. In addition to her deep experience, Tita also is a recognized leader in the holistic conservation approaches sector and is known for her extraordinary ability to make everyone feel included and celebrated.
For Tita, the fit with Legado is a natural one. "Last year, I was very fortunate to learn about Legado's approach for securing Thriving Futures for both people and the places they call home." Tita says. "It totally got my attention and enriched my enthusiasm by learning that there was another collective approach in Africa "on the other side of the world of the Amazon" putting people's voices at the center and working so hard on facilitating that people and their natural environments thrive together. Joining Legado is an amazing opportunity to scale up what I have learned and accomplished in the Andes-Amazon region and bring it to bear fruit in Africa and the world!"
"We are beyond excited to have Tita at the helm of our Thriving Futures program," Majka Burhardt, Legado's Founder and Executive Director, reflects. "Her years of experience working alongside indigenous and local communities to create locally-led, integrated approaches that benefit both people and endangered places will not only help advance Legado's mission but really take it to the next level as we continue to grow. Tita's deep passion for this work shines through and forged an immediate connection with our team. We cannot wait to get started together."
Tita remains connected to the Field Museum as an Honorary Research Associate.