---
Legado 2020 Champion Expedition
Scientific Discovery | Adventure | Community
10 Days • Mount Ribaue, Mozambique
Are you ready to discover new species?
---
Join Legado's field team of experts on the largely undiscovered Mount Ribaue in Mozambique.
Find new species of bats, birds, and lichen in June of 2020. 
Only four spaces are still available to be part of Legado's Field Team for this 10-day expedition, working with internationally renowned and up-and-coming Mozambican scientists as they catalog Ribaue's critical biodiversity.
Make an Impact by participating in valuable fieldwork that will launch Legado's long-term programming by working hand in hand with the local communities encircling Mount Ribaue.
Explore like a champion by jumping into additional activities like climbing Ribaue's granite face, meeting one of Ribaue's Queens, and camping at the edge of Ribaue's rainforest.
---
June 7th to June 16th, 2020
Starting and ending in

Nampula, Mozambique

.
---
Nampula is a short two-hour flight from Johannesburg. Johannesburg has direct flights from worldwide destinations including New York, Atlanta, and London and is a portal to world-class safari opportunities. 
Nampula is one of our team's personal favorite spots to end a Champions' trip because it's the perfect launch point to reach Ilha de Moçambique—an incredible historic beach destination that is the perfect place to unwind and relax after our journey together is complete.
---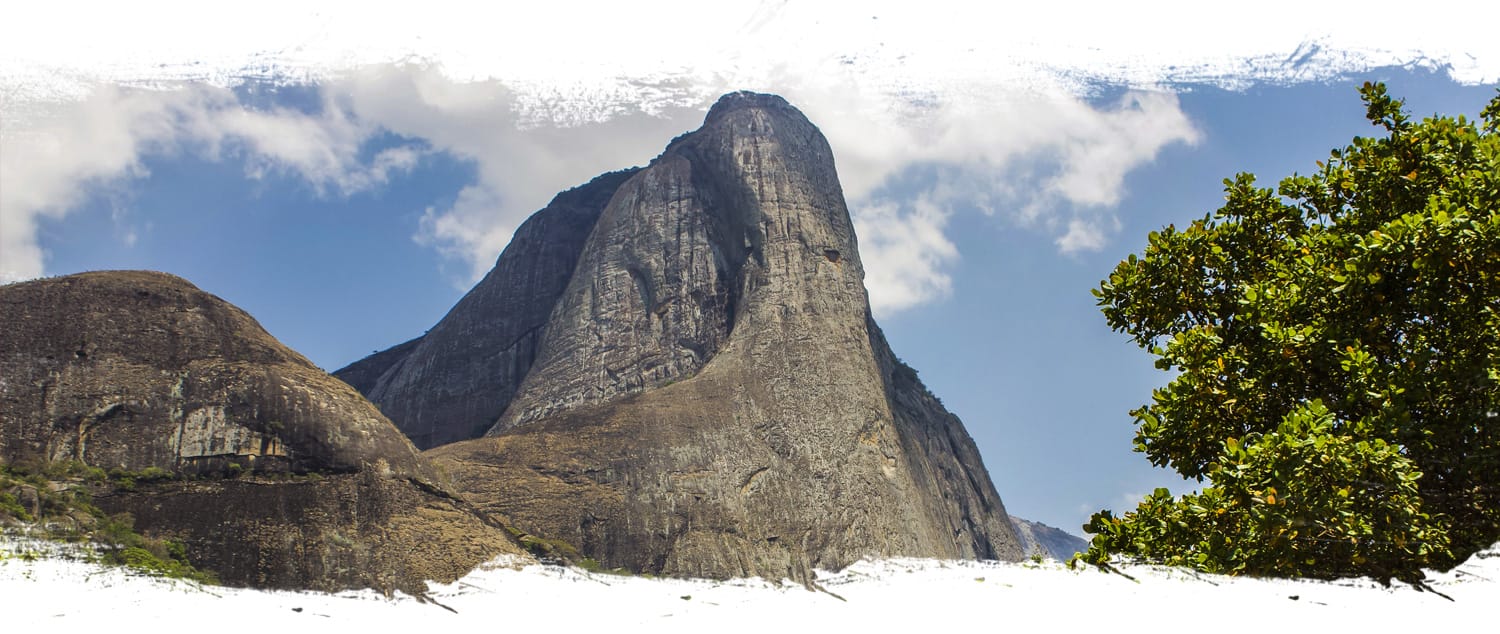 ---
Our Journey Together
---
Our time together will be full of adventure, scientific discovery, connection and community. From camping on the flanks of Mount Ribaue, to standing on its summit, meeting the Queen to getting down and dirty with our science and field teams, by the time you leave Mozambique you will fully understand the impact of your investment in Legado. Highlights include:
Journeying to basecamp at the foot of Ribaue (our home for five nights) on moto-bike and on foot;

Climbing Ribaue (or hiking it if that's more your style);

Assisting our chiropterologists, ornithologists, and lichenologists as they discover and document Ribaue's bats, birds, and lichen;

Meeting the Queen of Ribaue;
Visiting communities, meeting community members, and learning about what they are doing to create a thriving future for their mountain and their families;

Our small-group approach (there are only spaces for six champions) ensures you have a personal, meaningful and vibrant experience in Mozambique;

Open for individuals as well as families with children 15 years and above.
---

---
Your Commitment
---
As a Legado Champion, your leadership gift makes it possible for our team to support Sky Island communities create a thriving future for their families and their mountains. Your donation for this journey covers both your in-country costs as well as a donation to Legado's programming on Mount Namuli and Mount Ribaue in 2020.
Your donation of $13,500 covers all of you trip costs from Nampula, Mozambique, including lodging, food, transportation and a gift for the Queen of Mount Ribaue.

$9,500 of your donation will be eligible for a tax-receipt in the USA or Canada.

You are responsible for all of your travel costs in and out of Nampula, Mozambique.

A donation of $3,500 is required to reserve your spot on this Champion's trip

You can contribute the balance immediately or in portions. The full balance is due no later than March 1, 2020.
Ready? Great – let's do this!

---