Legado's Radical Approach
---
Our Goal Is Thriving Futures
Legado is not a conservation organization. Nor is it a development organization. We are a Thriving Futures organization and do not limit our focus to single sectors such as environment health, sustainable livelihoods, or education. Instead, we work with local people to prioritize what their community and environment need to thrive together now and into the future – an ultimate goal we call Thriving Futures.
This type of holistic approach is essential because environmental health and human well-being are wholly interdependent, particularly in the world's last wild places. It's time to understand them as forever linked.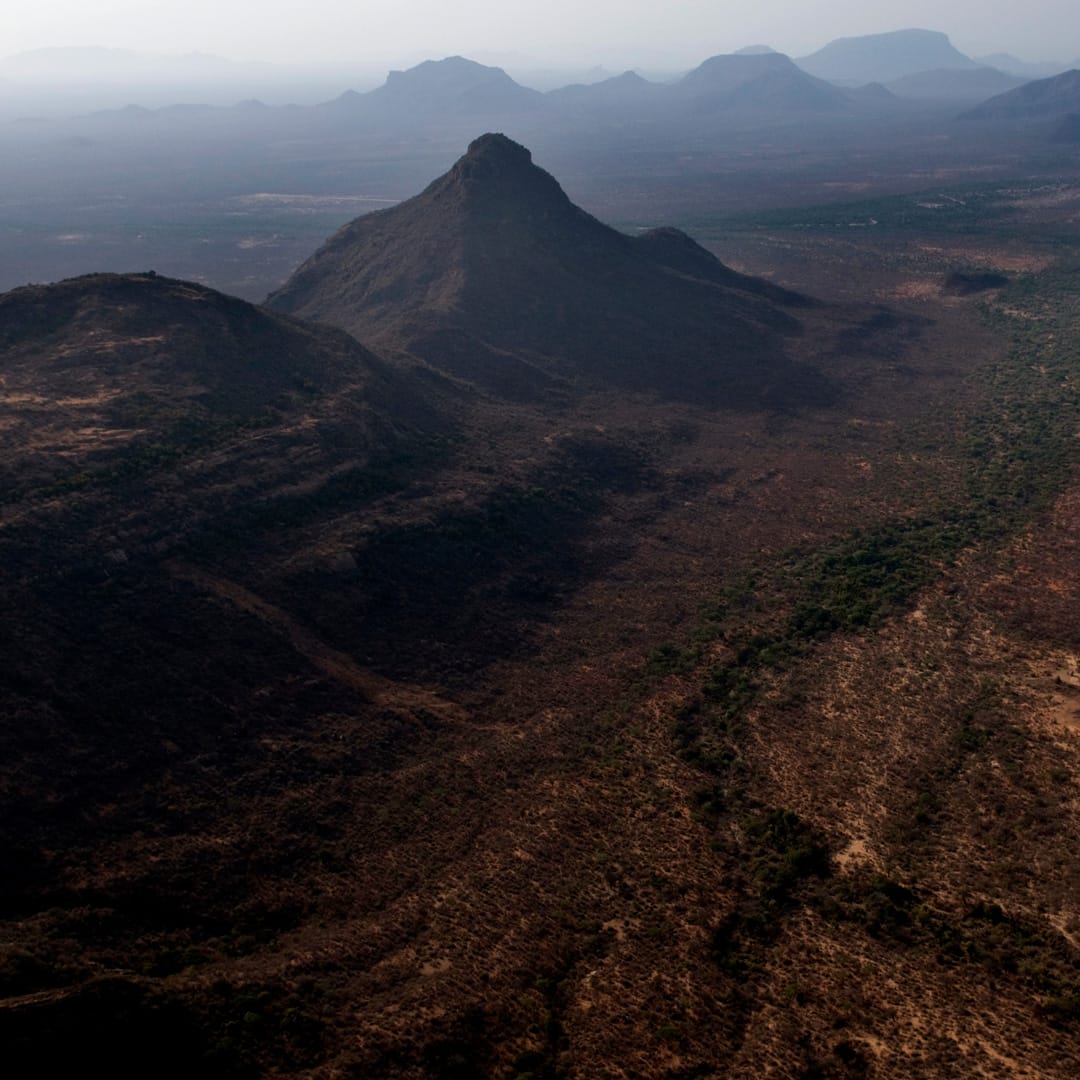 Ololokwe in the Mathews Range, Kenya | Photo by Juan Pablo Moreiras
WE ACTIVATE THE POWER OF LEGACY FOR SUSTAINED IMPACT
Legado means legacy in Portuguese and Spanish, and the concept of legacy is key to our approach.
The cumulative impact of individual actions sets the trajectory for our collective future. When people think of their lives as having a legacy, they are emboldened to conceive and drive their own vision for a Thriving Future. Legacy is not just something we leave behind, but something we create every day. 
Legado helps community members to develop their own visions for a Thriving Future and integrate these with their broader communities and other partners to arrive at collaborative visions and action plans. Having a legacy-based mindset drives both immediate and long-term, sustained impact for people and the environment.​
​Read about the power of legacy here.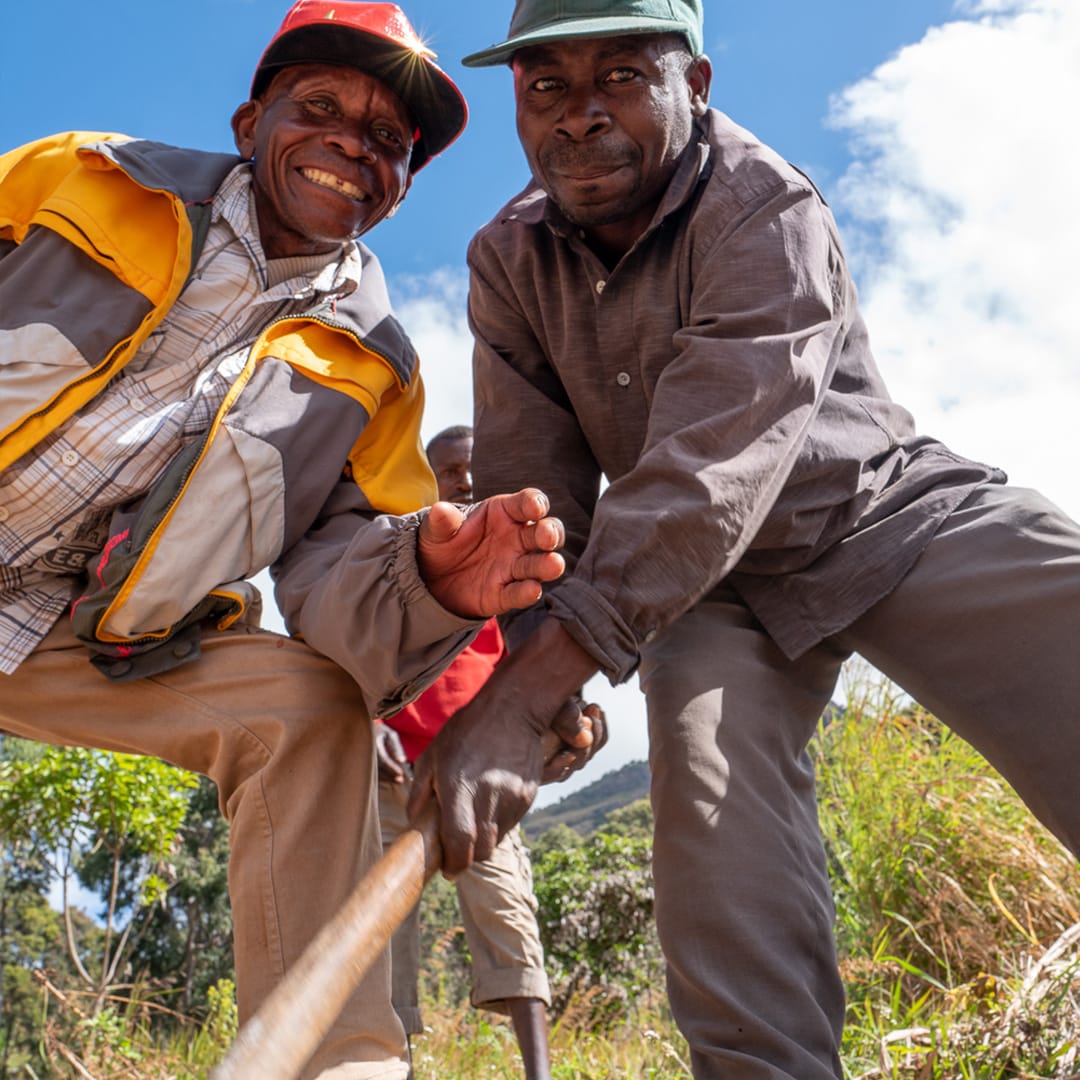 Sr. Serrote Voloua and Sr. Álvaro Caturia tend their fields on the flanks of Mount Namuli, Mozambique | Photo by Grant Bemis
WE HAVE A RELENTLESS COMMITMENT TO LEARNING
The work of building a better approach is never done. It requires a commitment to monitoring, evaluation, and adaptive management. We partner with the Ally to ensure a locally-informed, evidence-based system is in place to get the results needed. We draw on methodologies used successfully with indigenous and local communities around the world and conduct research to build upon lessons learned from other holistic approaches as we go.

Legado brings our Thriving Futures approach to some of the most important areas for conserving biodiversity and safeguarding our climate. We are unafraid to work in these remote, challenging, and often threatened "last mile" places, where people typically rely heavily on surrounding natural resources and can face serious challenges such as food insecurity and limited access to health care, education, and economic opportunities.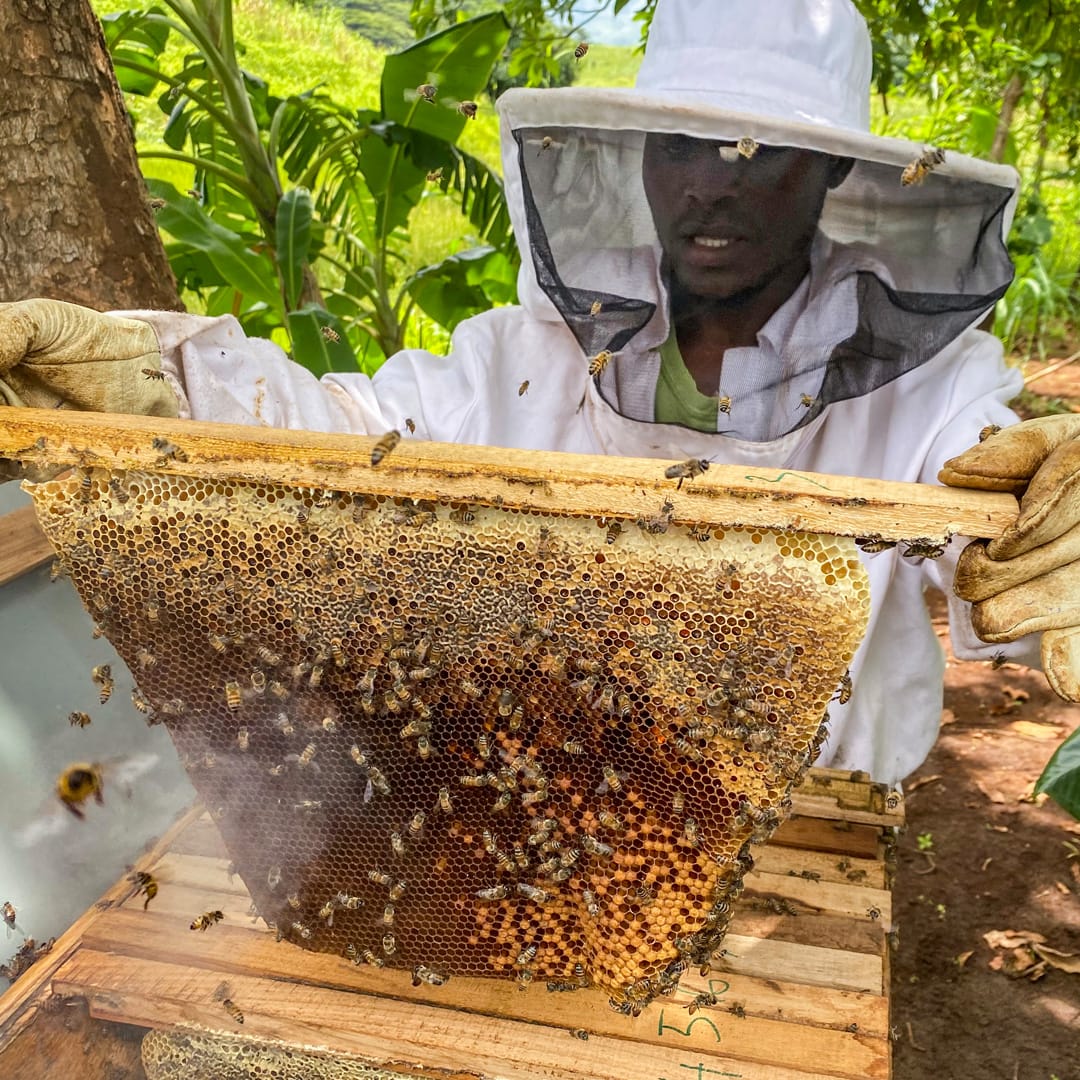 Gálio Felizardo Zecas checks his beehive on Mount Namuli, Mozambique. | Photo by Juliano Rodrigues
WE GET BEHIND LOCAL ALLIES
Long term success requires sustained and effective allies working alongside local people to realize their legacy-based visions. Legado strengthens local allies in three ways:
Legado identifies a local Ally organization to serve as a backbone to coordinate and promote execution of collaborative plans, including helping to assemble the necessary partnerships and resources for success.

Legado accompanies and strengthens the Ally's effectiveness during a three-year partnership to ensure they can drive the collaboration forward over the long term. 

The Ally joins a global network of Legado Allies for continued learning and peer and technical support.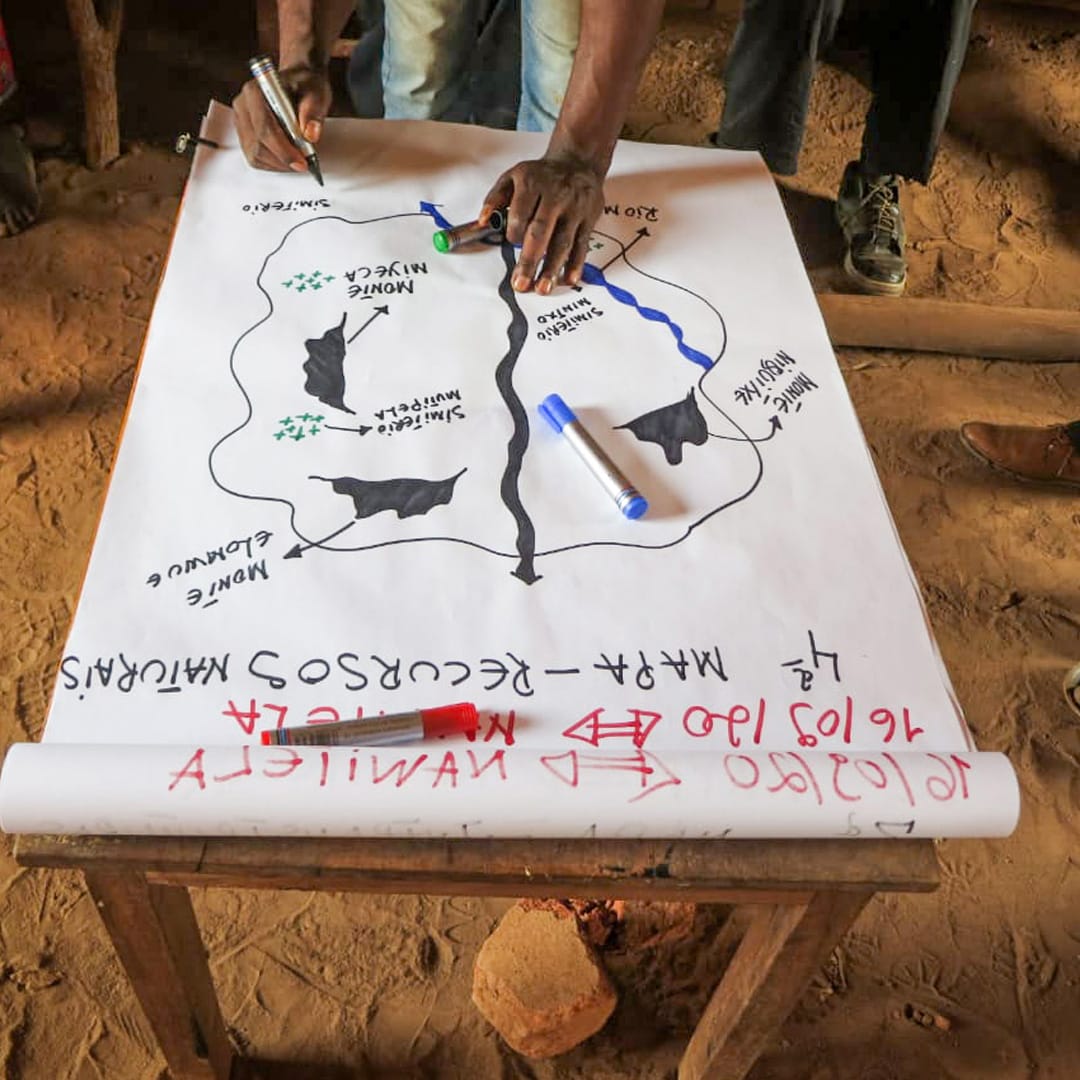 Mapping natural resources of the Nawitela community in Mozambique as part of a rural participatory diagnostics process| Photo by Juliano Rodrigues
THE LEGADO MODEL: ON THE GROUND
Legado partners with a local Ally organization that is committed to standing with and behind communities as they envision and then create their Thriving Future. Legado works closely with a Core Team within the Ally organization to build capacity to apply the Legado Model, for example by conducting legacy-based trainings and crafting robust learning plans.
With Legado's training and support, the Ally creates an inclusive environment for sharing and decision making and helps community members develop legacy-based mindsets and create shared visions for their communities' Thriving Futures. Together, communities and relevant partners prioritize actions and set plans to advance their goals.
Legado supports the Ally in-person and remotely for three years with capacity building and technical support as they accompany communities and implement projects to address community-identified priorities.
Legado and the Ally work together to monitor and evaluate progress and help communities adaptively manage their efforts and measure and understand impact. Beyond Year 3, Legado remotely monitors outcomes, impacts, and learnings to strengthen the Model and support the Ally, as needed, to troubleshoot and refresh their knowledge.
The Ally also joins Legado's global Ally Network to learn and share with other organizations using this approach. Ideally, the Ally continues to expand its application of the Legado Model across its programs.
Want to know more about Legado's radical approach? Connect with Sonya Kahlenberg, Senior Director, Thriving Futures here.