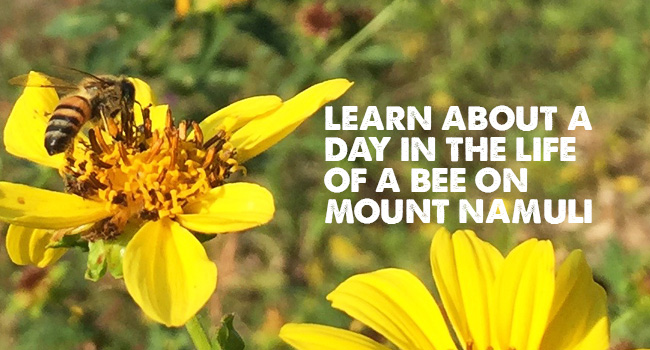 It's 5 am on Mount Namuli and the first rays of sunshine have just begun to peek through the shade of the trees. It may be early for some creatures, but for me and the rest of the bees of Namuli, it's time for us to get to work.  The light of the morning glistens on the cold dew of the trees and plants that rest at the foot of the mountain, as I spread my wings for the first flight of the day. 
I'm heading first to my favorite spot—the forested corridors that line Mount Namuli and the surrounding mountains. Following the bends of the river, I fly from the Malema river valley up to the mountain forests of Kali in search of the sweetest nectar, resin and pollen of the native plants and forests—my favorites are the peach and eucalyptus trees as well as the native namuresse and mutucura trees.
Like a traditional healer or "curandeira", I don't stop foraging through flowers and plants until I find all the ingredients I need to produce my honey, the sweetest essence of the mountain.   
In a matter of minutes, I can feel a change in the wind—the weather is about to shift.  Up ahead, I can see a massive cloud settling over Namuli like a glove, covering the peak and upper forests with a thick mist and a cool breeze.  A change like this is no problem for me though, our colony is used to the extremes that accompany life on this Sky Island. We have been here for centuries —we know it like the back of our wings.  
Though, over the recent decades, life has not been easy for us on the mountain. We have persisted in light of the negative impacts of human actions from fires and traditional agriculture. Their smoke, the way they decimate our homes and rid the ground of the flowering plants has made my family have to fly ever higher into the forests to seek food and refuge.  
It has been a difficult but beautiful life. 
Recently though, I can feel the winds of change blowing again. A new group of friends have come to the mountain and has helped us to thrive again. They dress in big white suits and help me find a safe home to produce the sweetest honey. All around me there is talk of sustainable honey and stopping uncontrolled fires.  
I can see that we're heading into a bright future—one that has us all abuzz as we catch glimpses of the safe (and sweet!) future where all of us—bees, animals, insects, plants and people—can live together and thrive. 
 Learn more about our work on Namuli