LEGADO:NAMULI IS LEGADO'S FLAGSHIP PROGRAM WORKING WITH THE LOMWE COMMUNITIES ENCIRCLING MOUNT NAMULI, MOZAMBIQUE, A KEY BIODIVERSITY AREA.
In 2014, we brought together local community activists, world-renowned scientists, Mozambican conservation leaders, and an international climbing team to collectively support Namuli's Lomwe communities in securing a thriving future for Namuli and the people who depend on it. It was here that Legado's work to activate the power of legacy was born.
Today, our Legado:Namuli team works with 8 communities and 24,000 people on the mountain to realize the legacies they have defined. Our partner in this work is Namuli Wiwanana (which translates from Lomwe to "Namuli, together"), a growing Mozambican organization that champions a community-first approach to conservation and development, and Nitidae, an organization who supports agricultural and non-timber value-chains.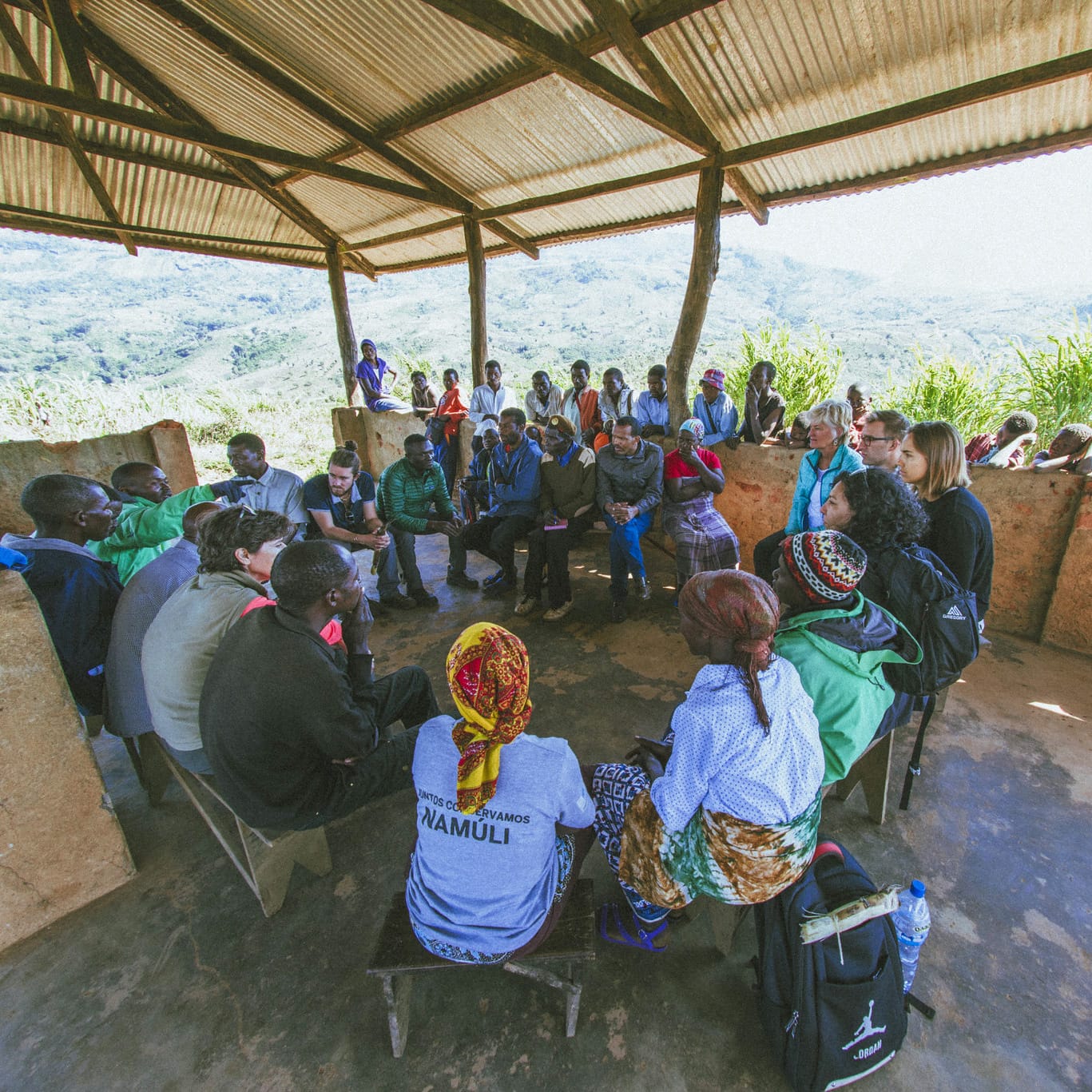 Mount Namuli: Community Thriving Futures Goals and Priorities
GOAL:
A Community Conservation Area that integrates the needs of place and people.
PRIORITIES
Secure land titles for communities and individual households

Strengthen agricultural livelihoods across current and future crops and value chains.

Increase long-term protection for the Mount Namuli ecosystem by making it one of Mozambique's first Community Conservation Areas

Access to quality health care (currently no health facility is available to serve the 24,000 people living around Mount Namuli and it's the only administration post in the entire Gurue district without a health facility).
As a result of this partnership and our work with Nitidae and Namuli WiWanana:
100% of the eight focal communities were titled and 4,841 individuals now hold titles to their family lands (with 69% of these titles issued in a woman's name). Prior to this work, no communities or families held formal land titles.

New sustainable agricultural practices have been adopted—resulting in increased yields, diversified production, and improved food security

New value chains have been created so farmers now have greater market access for their products

Health care access increased by 225% during the COVID-19 crisis.

Our work has also helped advance Mount Namuli's protection, as it is now slated to become one of Mozambique's first Community Conservation Areas.

Other Thriving Futures solutions are also underway.
Legado was born in Mozambique on Mount Namuli, a sky island which rises sharply out of the plains. Because it is not attached to a mountain chain, Mount Namuli provides habitat to unique species, flora and fauna and is also the ancestral home to the indigenous Lomwe people, holding significant cultural, social and economic influence in the lives of millions.
Decades ago, the communities encircling Mount Namuli lived in harmony with the mountain. However, poverty, climate change and growing populations have pushed communities to seek resources and arable land further and further up the mountainside. Unsustainable natural resource use and agricultural practices were threatening the mountain's unique biodiversity—specifically through the conversion of forests and grasslands for subsistence and local market agriculture. This threat to biodiversity also posed a significant threat to the long term well-being of the local communities.
Biologists and conservationists from around the world have identified Mount Namuli as a global conservation priority. It is designated as a Level 1 Priority Key Biodiversity Area by the Critical Ecosystem Partnership Fund, an Important Bird Area, an Important Plant Area, and an Alliance for Zero Extinction site. Read the latest scientific publications about Mount Namuli's unique biodiversity on our resources page.
In 2014, Legado and Mozambican conservation organization LUPA became the first groups to work with Namuli communities to create a vision for their future and the future of their mountain and its resources. In 2019, French organization Nitidae joined the Legado:Namuli consortium. Today, Legado works alongside Namuli Wiwanana and Nitidae in complementary programming to support Namuli communities achieve their goals for their mountain and their lives. POPULATION:
24,000 Lomwe people SIZE:
53,000 ha of montane forest, grasslands, shrublands MAJOR LIVELIHOODS:
Smallholder agriculture ICONIC WILDLIFE:
numerous endemic and threatened species such as Namuli apalis (Mozambique's only endemic bird) CONSERVATION VALUE:
a flagship sky island, which are home to 3% of Mozambique's landmass but 30% of its biodiversity
Watch the four-minute film created by the Namuli communities, Legado, and Nitiade, O Nosso Legado é Namuli (Our Legacy Is Namuli) produced in 2022. The film was narrated by Fáusia José, features Inácio Josefe Napalacué and has an original song written by Alexandre Maquina, Alvarino Rapissone, and the NRMC of Murrabué and performed by Sara Ruibeiro.
Click the image to enlarge the article.
Namuli Communities Landmark Titles Over Ancestral Land
A project to improve the implementation of Mozambique's well-established laws on tenure came to completion in December 2021, with the major milestone of titling 100% of community land. Read more in the excerpt from the Tenure Facility, who supported the work, in the page on the left.
Legado began with a pioneering expedition combining climbing, science, and conservation on Mount Namuli. See the internationally acclaimed film about our unconventional roots.
We've teamed up with Google Jump and filmmaker Ross Henry to create a 3-minute Virtual Reality film, Mountains = Water = Life, to take you right to the heart of the mountain.
Mountains = Water = Life tells the story about the power of one mountain and its water — tracking water from the rainforests on top of Mount Namuli all the way on its journey to the Indian Ocean — 200 miles away. Need another reason to check it out? It's narrated by the Queen of Namuli herself.
So, get your VR goggles ready and check the film out in English above or, you can see the film in Portuguese
 here.
 If you don't have VR goggles, no worries at all – you can still check out the film on YouTube and explore the 360 view of Mount Namuli by clicking and dragging around the screen.