Ngilai communities in Northern Kenya have completed a draft of their Legacy Plan and are beginning to implement priority actions.

Also in Kenya, Legado is advancing a partnership with Northern Rangelands Trust to bring our Thriving Futures approach to three additional community conservancies over the next three years.

Communities in Mozambique are preparing for their first Legacy Planning process, which will be vital as they continue advocating for Mount Namuli to become a Community Conservation Area.

We are constantly adapting our Thriving Futures programming to make it stronger. Due to the success of our focus on the inclusion and leadership development of women, we continue to invest in this approach as we move forward.

Ngilai communities within the Namunyak Conservancy were our first engagement in Northern Kenya, beginning in 2021. As part of our Thriving Futures process, communities members decide on the name of their initiative and Yiasim ee Ngilai was chosen, meaning "Legacy of Ngilai" in Samburu.
From planning to action: A first draft of Ngilai's Legacy Plan is now ready. Identified community goals include gaining equitable access to health services, increasing access to basic education, and supporting a healthy Mathews Forest and surrounding rangelands—all critical to Ngilai's self-identified Thriving Future. In Q3, community members start action toward their priorities within each goal.
Taking stock of the process: One of Legado's key aims for our Thriving Futures approach is to continuously learn and improve to ensure the best possible programming to support communities. Toward this aim, we held a reflection session for Ngilai community members who participated in our workshops to get feedback on the process. The feedback was overwhelmingly positive and many important learnings emerged. For example, we decided to increase our support for women participants through individual coaching to help them achieve their personal legacies, providing separate spaces to ensure their voices are heard in communal decision making, and ensuring that they have leadership roles in the process.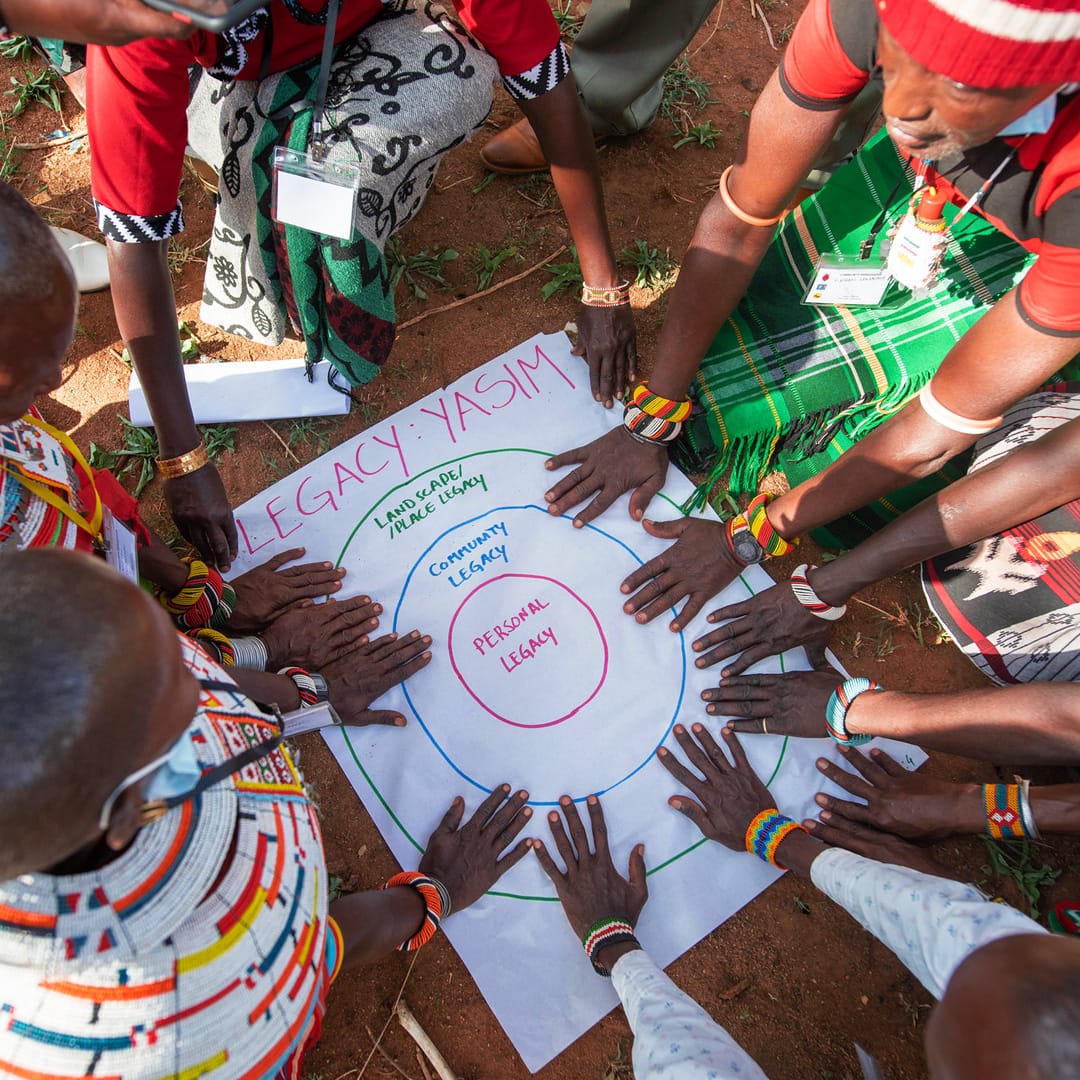 Ngilai community members work together on their community legacy goals (photo: Roshni Lodhia/Legado)
"The Legado training was so important for the community because it brought together people from all the villages in the community."
"[Legado's Thriving Futures approach] has given hope to some people who might have lost hope."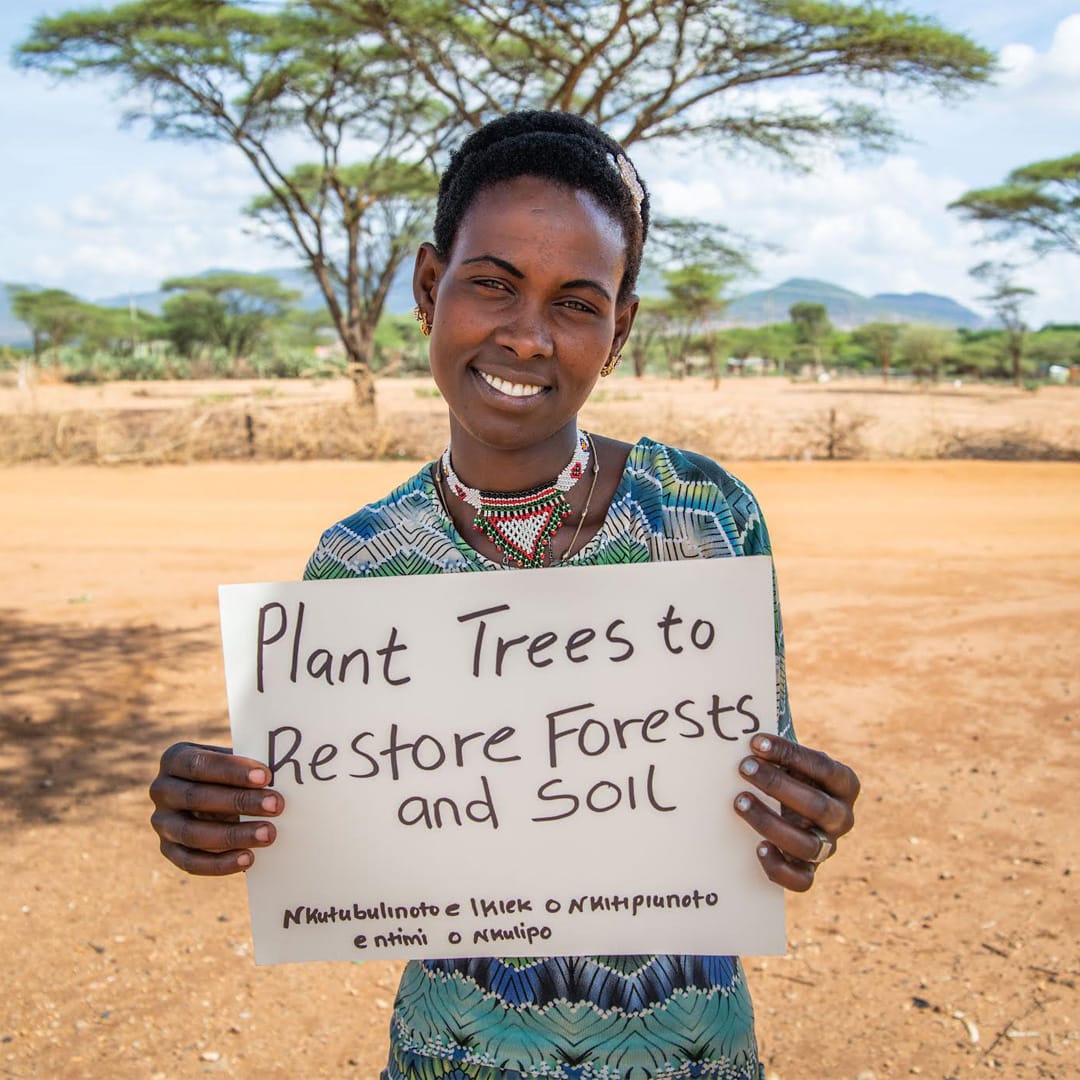 Khadija Lelesara, a Ngilai community member, is working toward her personal legacy goal of planting trees (photo: Roshni Lodhia/Legado)
After successfully launching our Thriving Futures program with Ngilai communities, Legado is now collaborating with the Northern Rangelands Trust (NRT), a NGO supporting 43 community conservancies in northern and coastal Kenya, to bring this approach to three additional community conservancies over the next three years.
Charting the path forward: Legado, NRT, and Kenya Wildlife Service held a series of meetings in June to plan how the Thriving Futures approach could be integrated with NRT's organization and programs to ensure inclusive, community-led initiatives going forward.
Next communities: Legado, NRT, and member conservancies are now in the process of deciding on the next communities for engagement. These new partnerships will begin in Q3 with community convenings expected to start in Q4 and Q1 of 2023.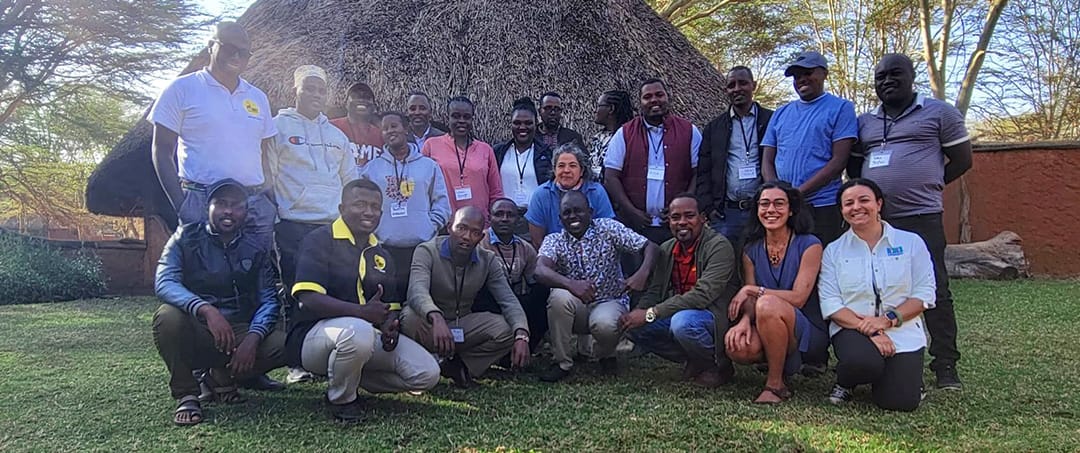 Legado staff and team from Northern Rangelands Trust in Kenya in June (photo: Legado).
Progress was made in Q2 toward community goals of protecting the mountain ecosystem. Communities also began organizing to create their first Legacy Plan under Legado's Thriving Futures methodology. This plan will be essential as communities continue to advocate for Mount Namuli to become a Community Conservation Area.
Fire mitigation:

Uncontrolled wildfires are a major threat to Mount Namuli's forests, surrounding farms, and other community assets. Building on the work organized by Nitidae and Legado in 2021, in Q2, several local natural resource management committees (NRMC's) drafted a work plan to raise awareness in their communities about wildfires and improve coordination for fire prevention and control. The awareness campaign has already started in key places such as schools, churches, and markets, and these NRMC's have requested a multi-stakeholder meeting with community leaders and other communities' NRMC's to coordinate a common action plan for fire control. This initiative was self-organized by the NRMC's to prevent the fires that devastate the Namuli landscapes from July-October each year.
Ensuring Free Prior Informed Consent (FPIC):

In preparation for the Legacy Plan that will be created with communities in Q3, meetings with key community representatives were held. These leaders expressed their support and enthusiasm for the Legacy Plan and Thriving Futures process. In Q3, 12 additional convenings for FPIC will be held, covering all 24 villages.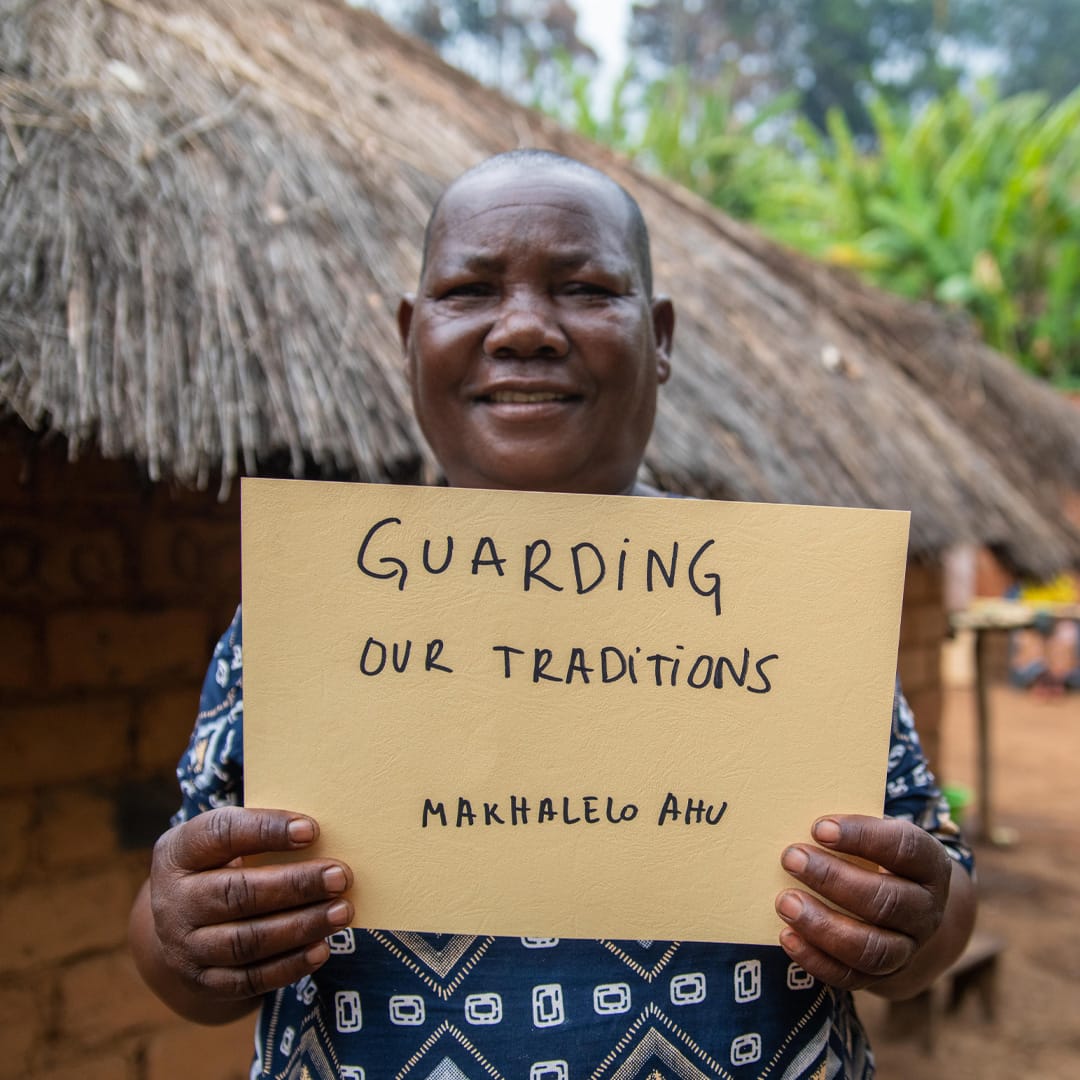 Queen Adelina Jackissone identified guarding Lomwe traditions as her personal legacy. She was interviewed by our team as part of our learning about the culture of conservation of the Lomwe people of Namuli (photo: Roshni Lodhia/Legado).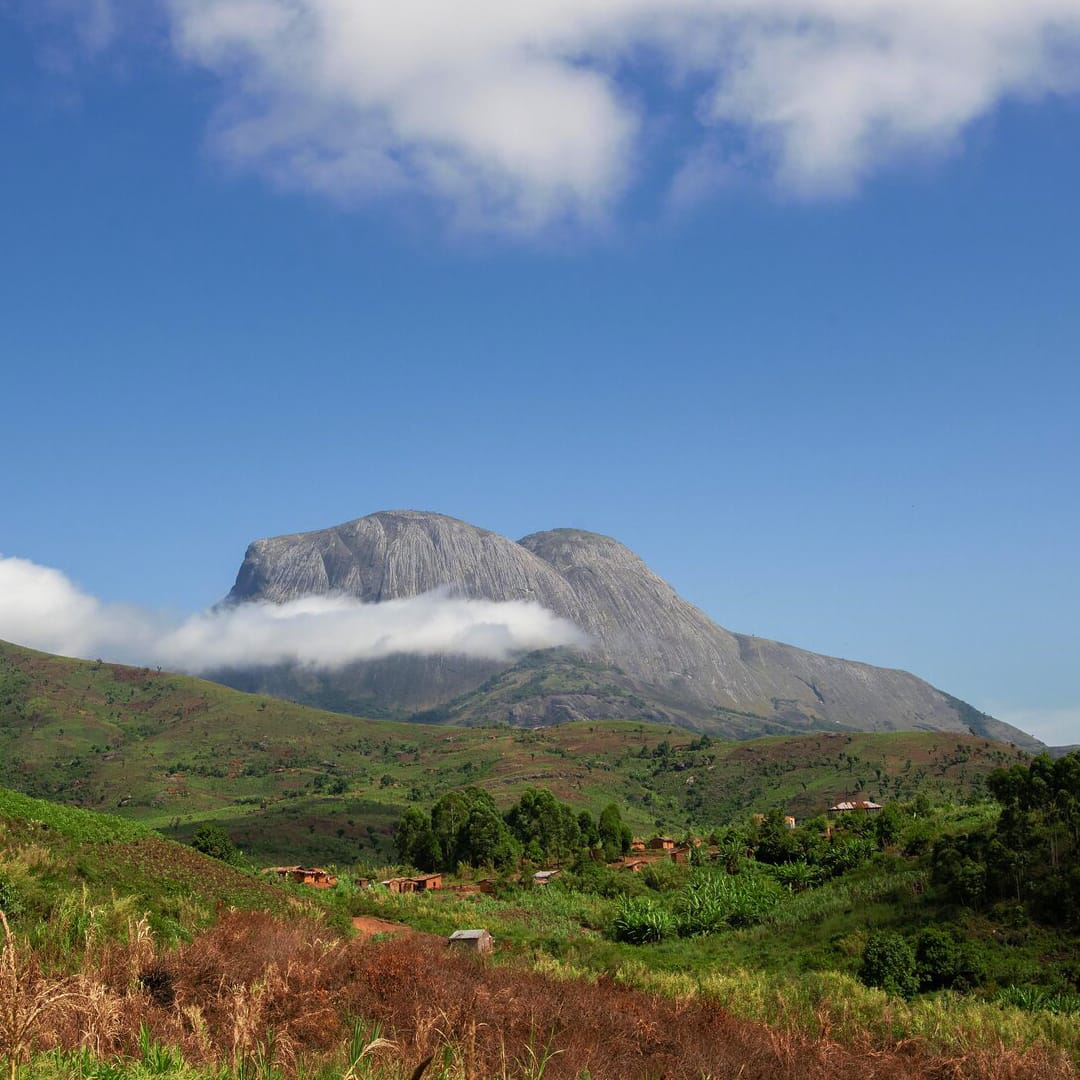 Fires burning on Mount Namuli (photo: Ross Henry/Legado).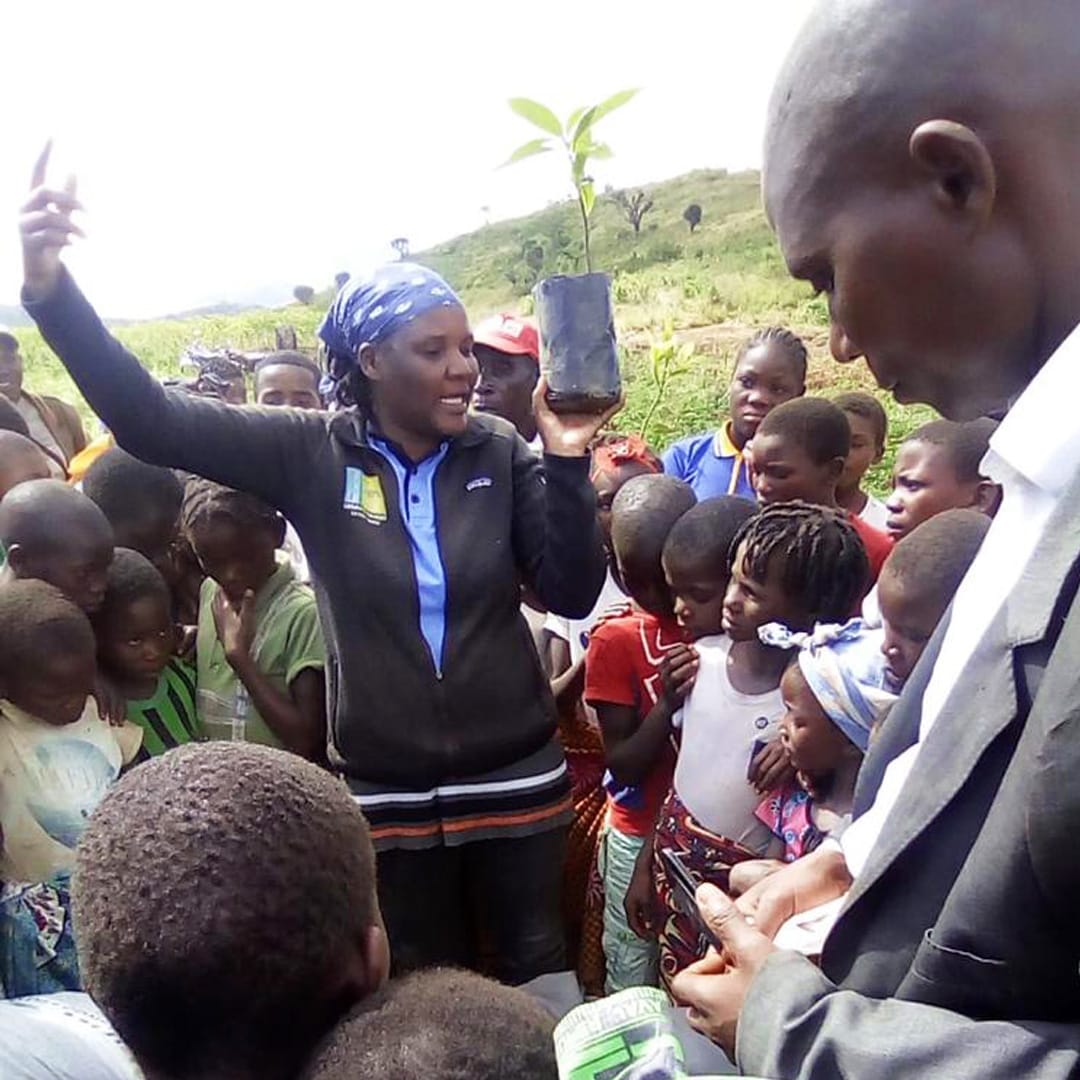 Planting trees with Young Environmental Leaders in the school of Murrabué village (photo: Legado.)
Building on a Culture of Conservation:

Legado worked with communities to better understand the culture of conservation of the Lomwe people of Mount Namuli by preparing focus groups and interviews with key community members, including Queen Adelina Jackissone. This work was part of the asset mapping underway in preparation for the community's Legacy Plan. The result of this work was the production of a story based on myths and legends of key guardians of culture from the communities. A guide for how to make use of this story as a tool for conservation was also created and it will be used with various groups, including young environmental leaders in Namuli's primary schools.
Equipping Women Leaders:

Because the Lomwe have a matrilineal inheritance system, our land titling work, done with partner Nitidae in 2021, benefitted women in a significant way. Of the 4,841 land titles that were formalized for households, 69% of these were issued in women's names. As a result, women now have a legal say in decisions about their land. To tap into the potential of women's leadership, Legado supports a Gender Reflection Group to involve more women and include their voices across all programming. This adjustment is strategic for the Legacy Plan and action work ahead because female facilitators and project leads will be essential to build sustainable community action.
Milestones and baseline data for each priority will be set by Ngilai community members in Q3 as part of their implementation plan. Community members will also write proposals for funding support for their priority projects.

Our new community partners in Kenya will be identified in Q3 with community convenings and Legacy planning expected to start in Q4 or Q1 2023.

Legacy planning preparations will continue in Namuli and workshops with communities will begin in Q4.

We are in the process of vetting our first partnership in Latin America. Please stand by for an exciting announcement by Q4 about this program.
We're increasing Legado's visibility to ensure that our work to support indigenous peoples and local communities in building their Thriving Futures continues and grows.
Legado's film

Legacy

was featured by

Earth Today

.

Legado (Dr. Tita Alvira, Majka Burhardt) presented in a webinar about "Sharing successful experiences of indigenous peoples and local communities' engagement in conservation" sponsored by the Amazon Sustainable Landscapes Program, Global Wildlife Program, Global Environment Facility, and the World Bank. You can view the recording

here

(start at minute 9).

Program Manager Ana Lemos gave presentations about Legado's work to the Amazon Freshwater Group at Florida International University and at the Diplomado en Conservación y Cultura at Universidad Javeriana (Bogota, Colombia).

Lemos was also appointed as an Honorary Associate with the Keller Science Action Center at the Field Museum in Chicago.

Senior Program Manager Dr. Monicah Mbiba represented Legado at the Intergovernmental Science-Policy Platform on Biodiversity and Ecosystem Services (IPBES) conference in Germany.
Interested in seeing our work in Kenya in person?
Join our Legacy Expedition on October 29-November 7, 2022. Visit our website for more information. You can also get the latest from Legado by signing up for updates, and following us on Facebook and LinkedIn.
Want to go deeper into Legado's work? Know a funder or potential partner who might be interested?
Feel free to contact EXECUTIVE DIRECTOR Majka Burhardt at 970-290-7822 OR majka@legadoinitiative.org.