Samburu communities in Ngilai unit inside Namunyak Conservancy, northern Kenya, created a first draft of their Legacy Plan. This milestone is the culmination of the collaborative work that began with Legado in September 2021 as part of our Thriving Futures™ initiative. The Legacy Plan articulates Ngilai's priorities for a thriving future and lays the groundwork for collective action to meet these priorities.

Legado also released

Legacy

, a 4-minute film that introduces how Legado works with indigenous peoples and local communities to build sustainable, locally led systems for collaborative problem solving.

An important tenet of Legado's Thriving Futures model is that it works to build consensus within communities for the priorities that they want to work together to achieve. Legado:Namunyak hosted 13 meetings over 4 months involving 20 villages. This enabled around 1,189 people to directly weigh in on and validate the priorities set by participants in the November 2021 community workshop.
A workshop was then held in March to finalize these priorities and shape them into Ngilai's Legacy Plan, which will direct the community-led solutions that are pursued. Ngilai's chosen priorities are listed below. Ensuring gender equity was also a cross-cutting theme recognized as important for every priority.
Gaining equitable access to health services

—integrating the culture of Samburu medicine while increasing access to healthcare among children, pregnant women, the elderly, and people with disabilities;

Increasing access to basic education

—supporting out-of-school education and mobile schools (to accommodate Samburu pastoralist movements) and relevant mentorship programs; and

Enhancing governance to support a healthy Mathews Forest and surrounding rangelands

—diversifying livelihood activities, recovering degraded forests, and improving grazing patterns of domestic livestock.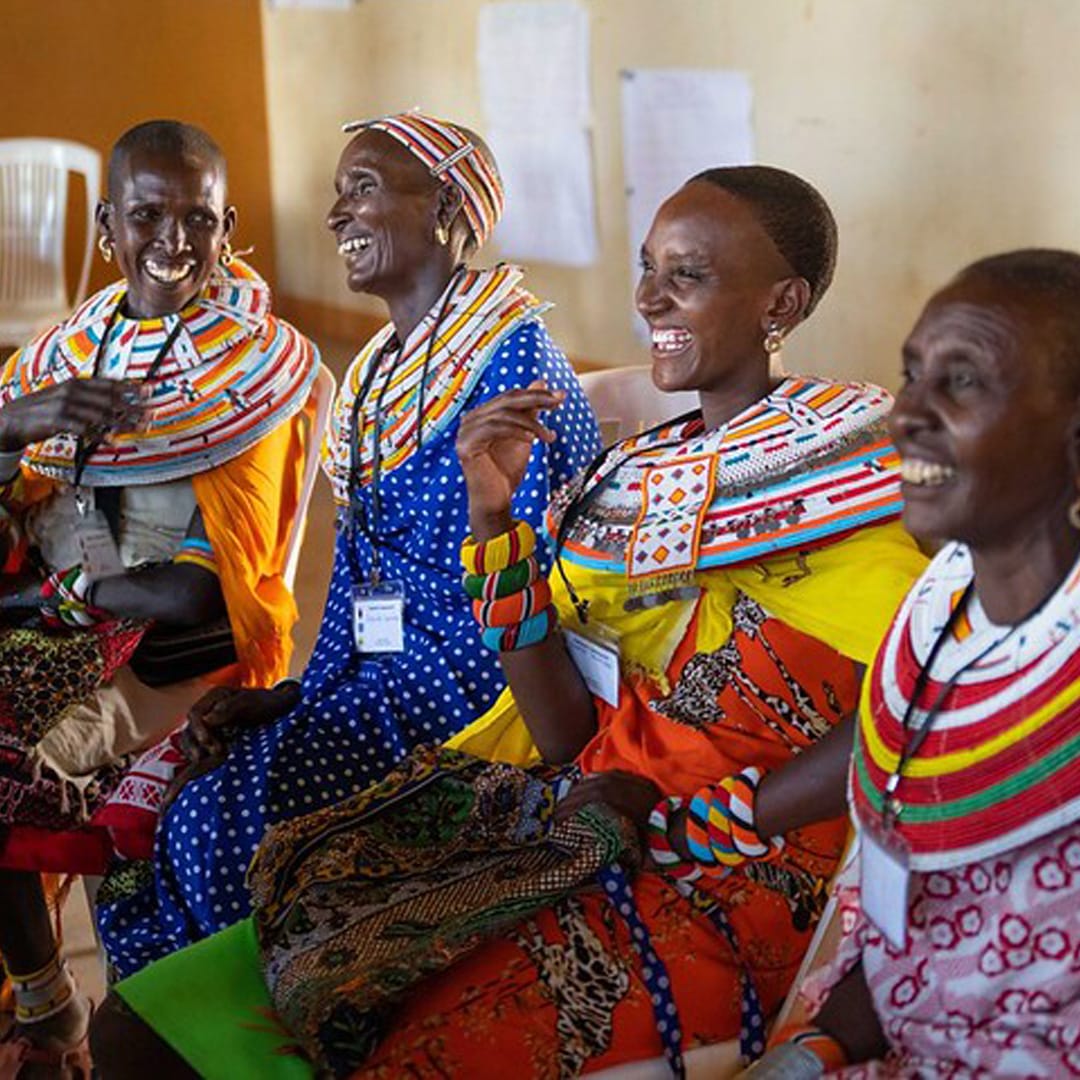 (Left to right) Ngilai community members Naanyuni Lenaseyian, Naawai Lemakani, and Olika Lekerpees participate in the community workshop (photo: Roshni Lodhia/Legado)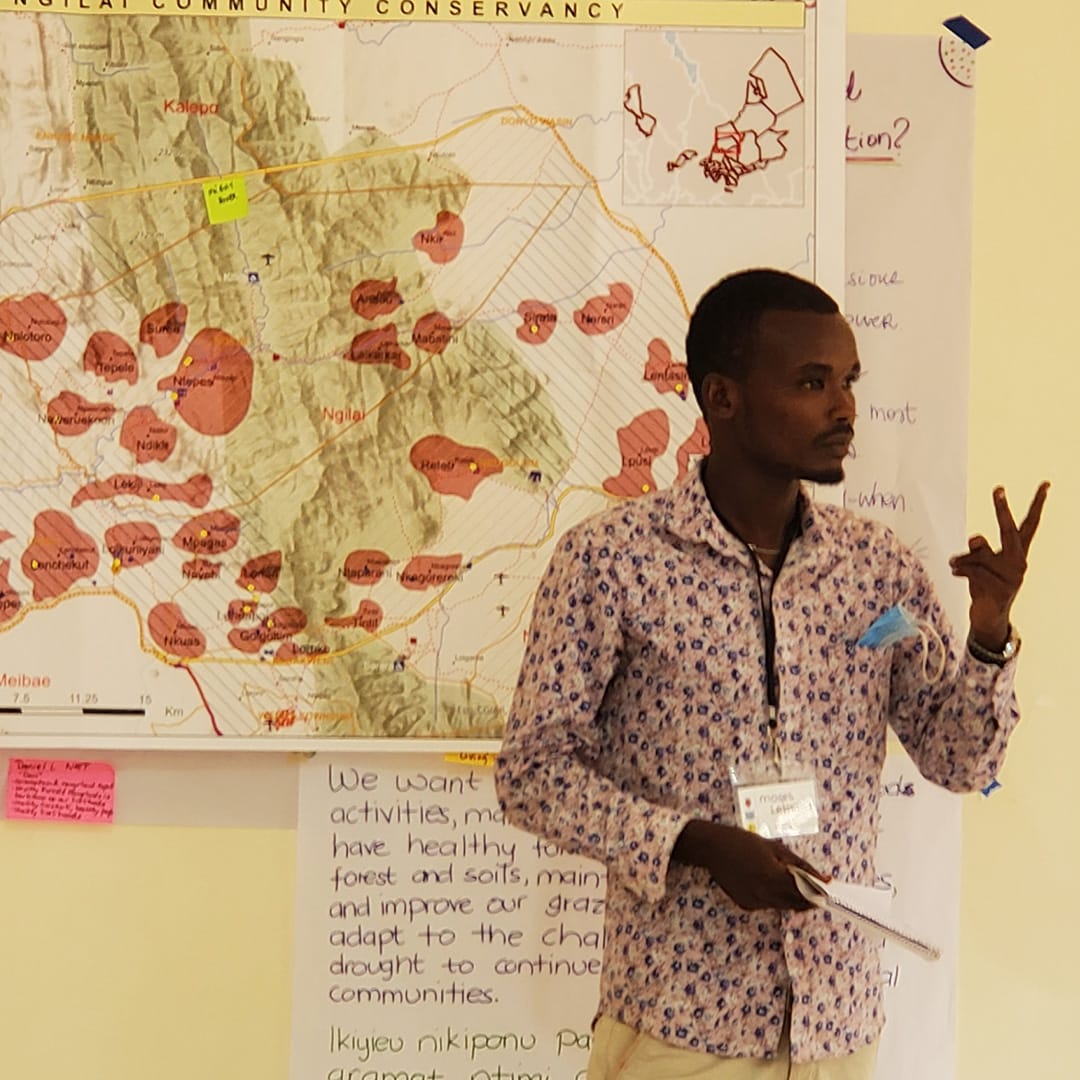 Moses Lekaaso, Ngilai unit's Rangelands coordinator leading a discussion about how to manage healthy rangelands at the priority workshop (photo: Legado).
Building off the priorities in Ngilai's draft Legacy Plan, Legado:Namunyak then convened five organizations in March that are working within the landscape inside the health sector. The goal was to help the community begin mapping actions needed to achieve their health priorities and to gain commitments for collaboration on action implementation. Similar workshops were also planned for the education, environment, and livelihoods priorities and these will be held in Q2.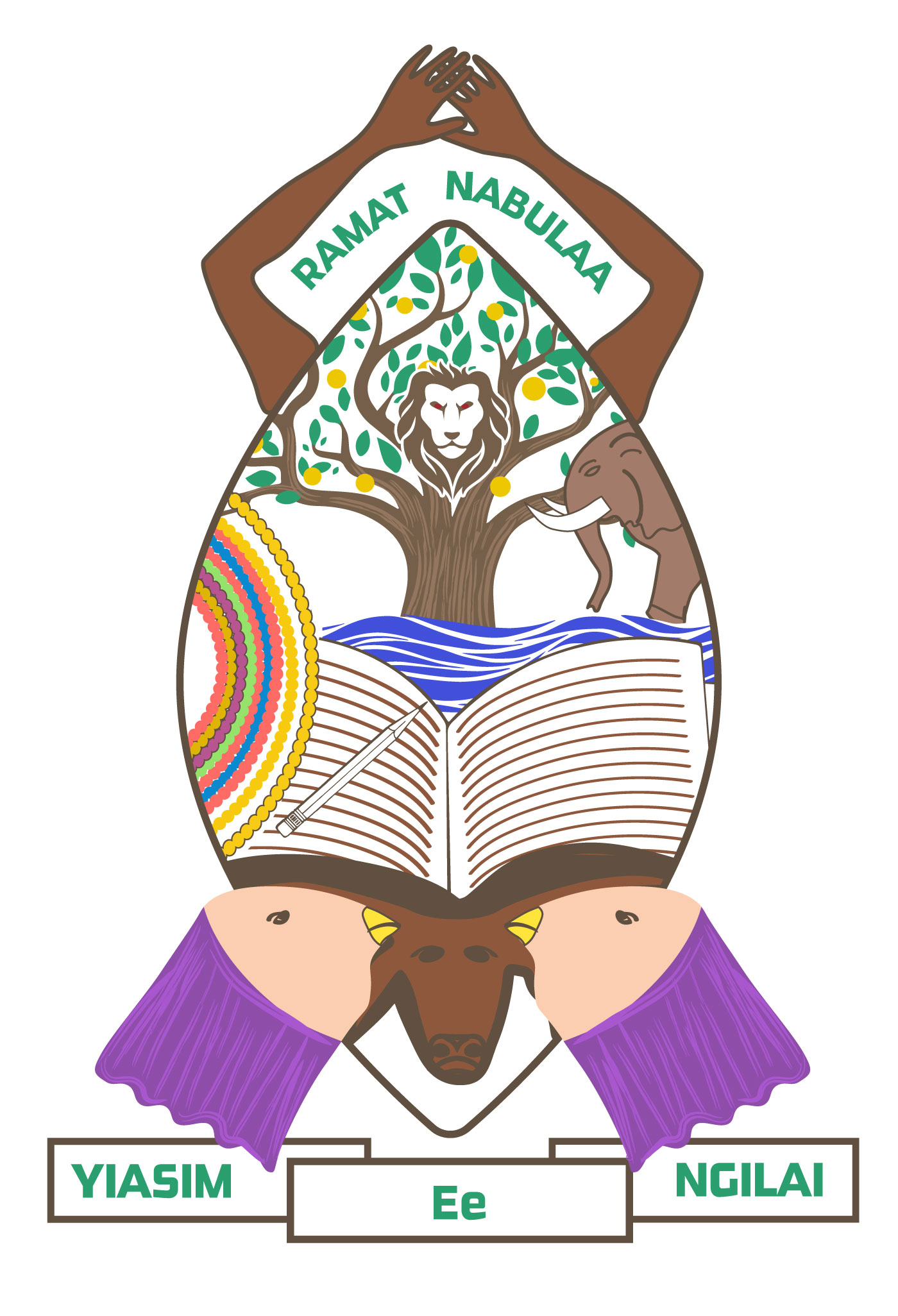 Ngilai unit's Legacy Crest was designed in a collective exercise and finalized by community member Moses Lekaaso. The final crest was presented at the workshop in March. For an explanation of the components and cultural significance of the crest (see
here
)
.
Since we began working in Mount Namuli, Mozambique in 2014, local communities have prioritized rights to their land, more sustainable agricultural methods, and protecting their mountain ecosystem as keys to creating a thriving future. Here is the progress we have made with our partner Nitidae across these priorities in Q1:
Land Tenure.

In 2021, the major milestone of titling 100% of community land was achieved, and in Q1, the Legado:Namuli consortium formally delivered the outstanding land title certificates to communities and individual households to conclude this initiative. Land tenure is critical for granting local communities the authority to freely use the land as they see fit. Given the Lomwe people's matrilineal inheritance, it also benefitted women in a significant way. Of the 4,841 titles that were formalized for individuals, 69% of these were issued in a woman's name. This project was also critical for defining the core and buffer zones necessary for preparing

Namuli's Community Conservation Area (CCA).
Sustainable Agriculture Program.

Heavy rains in Q1 necessitated a focus on research and maintenance (e.g., beehives, crop nurseries) for community agricultural projects. Legado:Namuli has an ongoing campaign to help diversify crops and close the income gaps throughout the year that lead people to resort to potato farming in highland areas slated for conservation. Legado:Namuli began testing the viability of new value chains and crops, particularly coffee, that can support the livelihoods of families and is surveying households to better understand the reasons behind continued potato cultivation.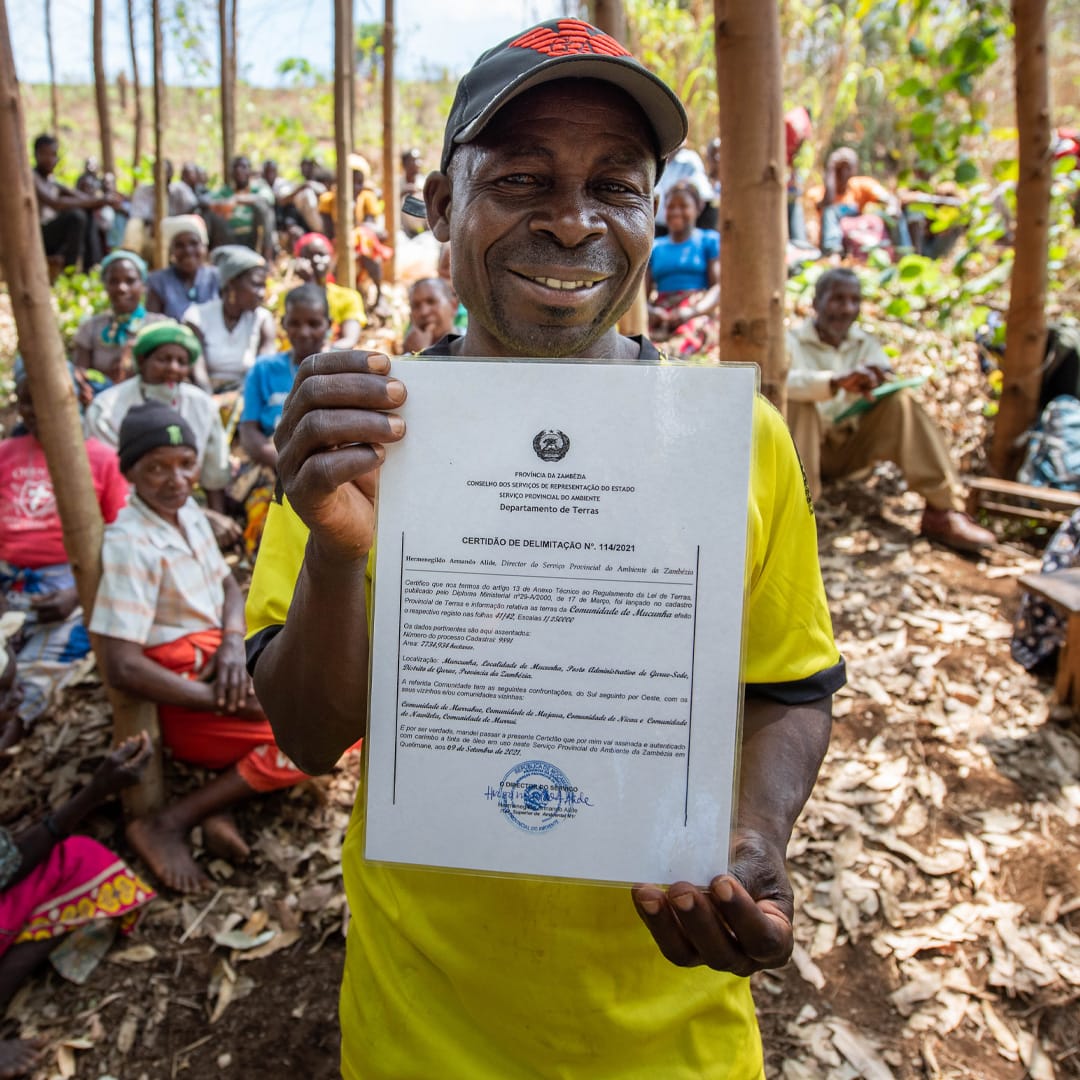 Sr. Álvaro Caturia from Mucunha village holds up his community's land title at the land titling ceremony (photo: Roshni Lodhia/Legado).
Planning for a Thriving Future. As we continue to head toward the CCA, it is critical that communities are aligned in their vision and priorities so they can advocate for themselves while making decisions about protecting their land. Legado:Namuli's main focus has been on smallholder agriculture (livelihoods), environment, and governance, so we began collecting and mapping information for the other Thriving Futures dimensions (health, education, and culture) to lay the groundwork for planning workshops that will take place later this year to create an updated Legacy Plan for Namuli.
Gender Reflection Group. A new pilot initiative was launched to review ongoing and planned activities in Namuli using a gender inclusion lens. Our goal is to help expand current program access for women and to plan new programs in which women play a central role. Lessons learned and recommendations are shared with the wider Legado:Namuli team to incorporate into planning.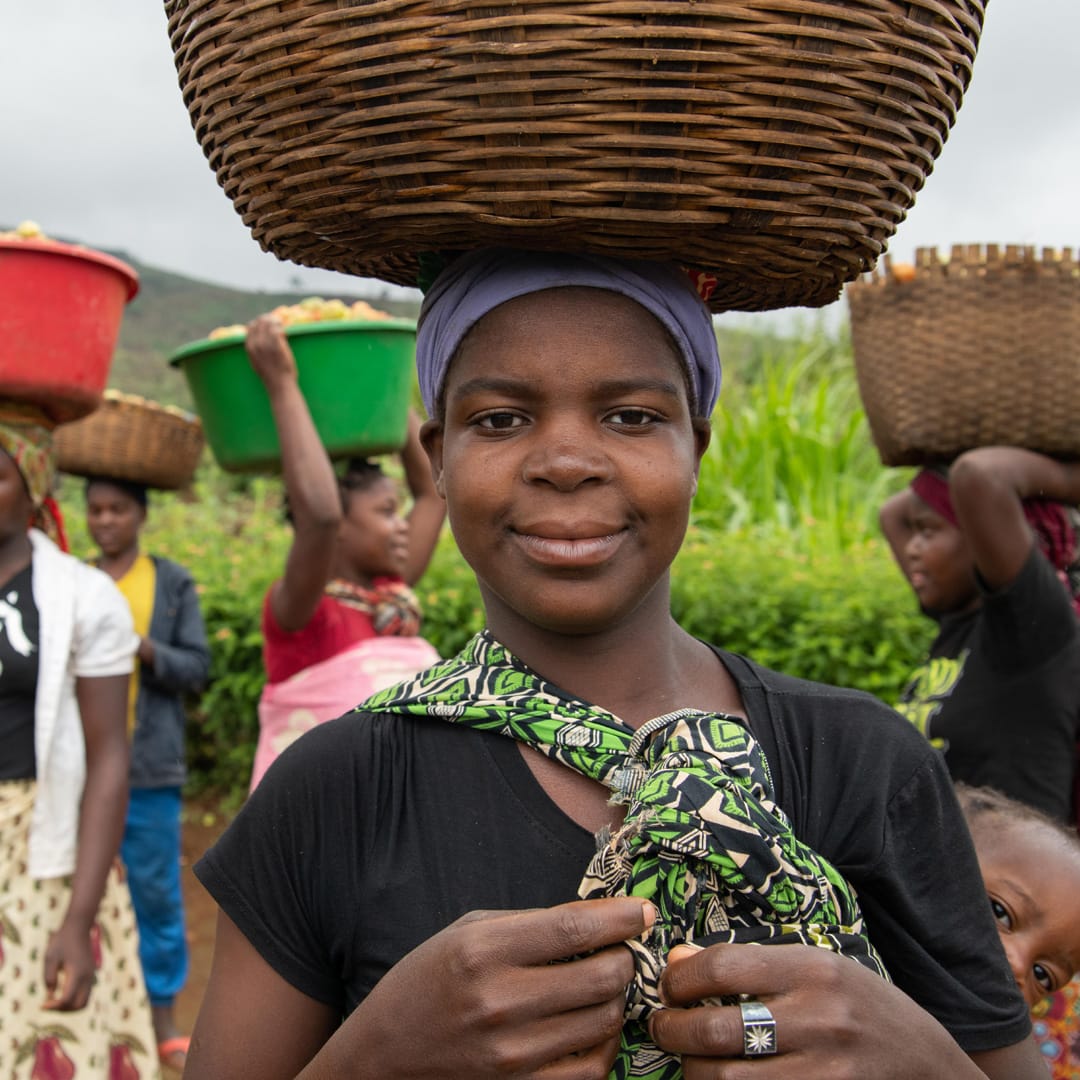 Legado:Namuli's agricultural test crops will benefit farmers such as the Macaula family who live in Chipe, a village at the foot of Mount Namuli where land is very steep and difficult to cultivate (photo: Roshni Lodhia/Legado).
LEGADO:NAMUNYAK
In Q2, follow-up meetings and collaborative working group sessions are planned with community representatives and partner organizations to finalize priority lines of action and start implementation of Ngilai's Legacy Plan. Legado will also lead the integration of a monitoring and evaluation framework into the plan. Additionally, we will be preparing for the launch of Legado's work into another neighboring conservancy.
LEGADO:NAMULI
Our next steps in Q2 include continued community asset mapping for all dimensions in preparation for upcoming workshops, vetting NGOs in Mozambique to expand our available collaboration options, and planning the community workshops.
We're increasing Legado's visibility to ensure our work to support local communities in building their Thriving Futures continues.
On April 6, we hosted our third virtual Town Hall and premiered

Legacy

, a new 4-min film shot and produced by Roshni Lodhia. Supporters, friends, and collaborators from around the globe joined the event to get the latest updates from our team and ask questions live. You can access the recording

here

.

On April 7, Legado (Tita Alvira, Majka Burhardt, Monicah Mbiba) presented at "Shaping the Future of Conservation Livelihoods Funding Together," an

online conference

hosted by Jersey Overseas Aid and Durrell Wildlife Conservation Trust. You can view the recording

here

(start at 51:23).

In Q1, Legado CEO and Founder Majka Burhardt gave an interview on "Legado Case Study: Obtaining Philanthropic Support" with the Yale School of the Environment. Watch the interview

here

.
Interested in seeing our work in Kenya in person?
Join our Legacy Expedition on October 29-November 7, 2022. Visit our website for more information. You can also get the latest from Legado by signing up for updates, and following us on Facebook and LinkedIn.
Want to go deeper into Legado's work? Know a funder or potential partner who might be interested?
Feel free to contact EXECUTIVE DIRECTOR Majka Burhardt at 970-290-7822 OR majka@legadoinitiative.org.